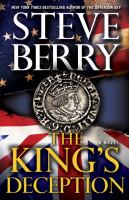 Library Journal
(c) Copyright Library Journals LLC, a wholly owned subsidiary of Media Source, Inc. No redistribution permitted.

In Berry's eighth book (after The Columbus Affair) starring Cotton Malone, the aging former agent turned bookseller is pulled yet again into a conspiracy to rewrite history. Retirement from private security/international affairs and a Danish address aren't enough to keep Malone out of trouble when he agrees to transport a fugitive to England. Malone and his teenage son, Gary, become ensnared in a plot that links Malone's ex-wife's affair, Libyan terrorists, and Elizabeth I of Shakespeare's era. Gary teams up with Ian, a wily London street kid who unwittingly pickpocketed key evidence moments before a murder. Malone must identify his real enemies and solve the mystery to save his son and himself. -VERDICT Berry's fans expect action interspersed with unbelievable shockers from the past and just enough historical fact to make the incredible plots seem possible. They won't be disappointed here as his hero continues to do battle with history and those who would kill to keep its secrets buried. [See Prepub Alert, 11/12/12.]--Catherine Lantz, Morton Coll. Lib., Cicero, IL (c) Copyright 2013. Library Journals LLC, a wholly owned subsidiary of Media Source, Inc. No redistribution permitted.
---
Book list
From Booklist, Copyright © American Library Association. Used with permission.

After an exciting departure from his Cotton Malone novels (The Columbus Affair, 2012), Berry returns to the series formula. When Malone's 15-year-old son is briefly kidnapped in London, the spy-turned-bookseller discovers he has inadvertently stumbled upon an international plot that involves secrets about Queen Elizabeth I and the impending release from prison of one of the men behind the 1988 bombing of Pan Am Flight 103 over Lockerbie, Scotland, which killed 270 people. It takes awhile, but Berry does forge a thinly plausible connection between a modern-day terrorist act and the last Tudor ruler of Britain. Berry populates the novel with the usual assortment of characters the shifty intelligence agent, the stalwart investigator and even offers us an ancient society that will stop at nothing to keep Elizabeth's shocking secrets from getting out. Fans of the series will no doubt enjoy this one, although it breaks no new ground, holding tightly to the series format. The galley circulated for review contains a troubling chronological inconsistency depending on which internal evidence you listen to, the story is set either in 2005-06 or 2009 but this could be cleared up when the book goes to print. HIGH-DEMAND BACKSTORY: Berry's books, best-sellers all, have been translated into 40 languages with more than 15 million copies in print in 51 countries.--Pitt, David Copyright 2010 Booklist
---
Publishers Weekly
(c) Copyright PWxyz, LLC. All rights reserved

In bestseller Berry's tepid eighth Cotton Malone thriller (after 2011's The Jefferson Key), the ex-secret agent agrees to escort a juvenile thief in CIA custody, 15-year-old Ian Dunne, to England, as a favor to his former boss, Stephanie Nelle. Conveniently, Malone, who now runs a used-book store in Copenhagen, is planning to pick up his 15-year-old son, Gary, from his ex-wife in Atlanta for a European visit. Shortly after Malone and the two boys land at Heathrow, Ian and Gary are kidnapped. Malone begins a deadly chase that ricochets between 1547 and the present day and centers on a historical mystery involving Elizabeth I. All the elements of a Da Vinci Code adventure are in place: a traitorous CIA agent, ancient treasure, secret codes, and a mysterious, elderly head of the British Secret Intelligence Service; but unfortunately these components function more as teasers for the undeniably fascinating historical material, rather than as a launching pad for genuine thrills. 8- to 10-city author tour. Agent: Simon Lipskar, Writers House. (June) (c) Copyright PWxyz, LLC. All rights reserved.