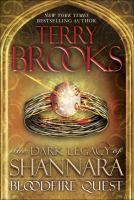 Publishers Weekly
(c) Copyright PWxyz, LLC. All rights reserved

Brooks, continuing his long-running Shannara high fantasy series, picks up the story begun in The Wards of Faerie just as anguish strikes Arlingfant Elessedil, the sister of doughty young Druid Aphenglow. Arlingfant is Chosen by the dying sacred tree Ellcrys to become its new avatar, and asked to sacrifice her earthly life to resurrect Ellcrys and reseal the magical Forbidden realm where fearsome demons threaten to escape their centuries-long confinement. Arling will have to carry the Ellcrys's seed to the mysterious Bloodfire, but neither she nor Aphen knows its location, leading inevitably to a quest. Brooks splits his questors into several groups, each with its own grisly trials and often horrid fates, the better to reveal several aspects of his fictional universe. Each sister continually declares she "is there" for the other, a somewhat jarring intrusion of contemporary idiom into the otherwise convincingly colorful fictional world. Shannara fans will delight in Brooks's sorcerous action, skilled characterizations, and rapid-fire storytelling twists, but readers new to the series may yearn for a glossary to tell the heroines and monsters apart. Agent: Anne Sibbald, Janklow & Nesbit. (Mar.) (c) Copyright PWxyz, LLC. All rights reserved.
---
Book list
From Booklist, Copyright © American Library Association. Used with permission.

*Starred Review* She selected Arling among all the Chosen to take the seedling to Bloodfire. However, in the face of this much-needed sacrifice, Arling ran away, turning her back on the peace and prosperity her land has known. For taking the seedling to Bloodfire will result in Arling's death, a death that would come far too soon in such a young life. By running away, Arling guarantees the eventual fall of the Forbidding, the magical barriers that lock away dangerous and evil creatures. From the first pages to the harrowing ending, Bloodfire Quest, the second installment of Brooks' newest trilogy, is a thrill ride that will leave readers wanting more. Librarians can only expect major demand from their sf fans, and this volume, paired with the first, might be just the right place to introduce new readers to this fine writer. High-Demand Backstory: For the first time in Brooks' career, he will publish a novel every six months until the end of this new series; librarians need to get on the bandwagon and hang on as every new one appears.--Downs, Alison Copyright 2010 Booklist
---
Library Journal
(c) Copyright Library Journals LLC, a wholly owned subsidiary of Media Source, Inc. No redistribution permitted.

A magical barrier that protects the land from ravaging monsters is eroding. Also dying is the Ellcrys, a magical tree whose existence is vital to the protection of the land. The tree chooses the elf Arlingfant Elessedil to undertake the quest that will transform her into the new Ellcrys. Accompanied by her sister Aphenglow and a few chosen companions, the reluctant Arling sets out on a journey that, in order to succeed, can only end in her death. VERDICT Since the 1977 publication of The Sword of Shannara, the adventures of the people of the Four Lands have attracted a huge readership. The second volume of Brooks's new trilogy (after Wards of Faerie) continues the themes of love, duty, sacrifice, and transformation that have resonated with fantasy lovers. A strong backstory and vivid world make this a must-read for series fans. [See Prepub Alert, 9/24/12.] (c) Copyright 2012. Library Journals LLC, a wholly owned subsidiary of Media Source, Inc. No redistribution permitted.