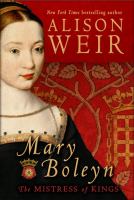 Library Journal
(c) Copyright Library Journals LLC, a wholly owned subsidiary of Media Source, Inc. No redistribution permitted.

Having explored the final days of Anne Boleyn in The Lady in the Tower, popular historian Weir now turns her attention to Anne's sister Mary. Briefly the mistress of the French king Francis I and later of Henry VIII, Mary eventually wed a commoner for love and faded into relative obscurity-until Philippa Gregory's novel The Other Boleyn Girl drew her onto the stage again. Though any study of Mary is bound to be hampered by the scarcity of solid evidence about large parts of her life, Weir has striven to provide the most complete assessment possible; while she indulges in some well-researched speculation to fill the gaps, she remains clear about facts vs. what must be left to guesswork. Furthermore, she devotes much effort to examining the development of Mary's historical stature and dispelling the most egregious rumors-in particular, those surrounding Mary's reputation as "a very great whore" (neatly dismissed by Weir as a myth) and the paternity of her two eldest children. VERDICT As the first full biography of Mary Boleyn, this is a valuable resource both for historians and for casual readers interested in an accurate account of this recently popularized historical figure. [See Prepub Alert, 4/4/11.]-Kathleen McCallister, Univ. of South Carolina, Columbia, Lib. (c) Copyright 2011. Library Journals LLC, a wholly owned subsidiary of Media Source, Inc. No redistribution permitted.
---
Publishers Weekly
(c) Copyright PWxyz, LLC. All rights reserved

Mistress of Henry VIII and his rival Francois I, Mary Boleyn has often been romanticized and misrepresented in histories and in popular novels like Philippa Gregory's The Other Boleyn Girl, argues historian Weir (The Lady in the Tower) in this fresh take on Anne Boleyn's sister. Weir's rigorous reassessment makes the case (long debated by historians) that Mary was likely the elder sister, based on her grandson's written assertion of this. Mary was never the great, infamous whore described by papal representative Rodolfo Pio; her liaisons with both Francois and Henry "were conducted so discreetly that not a single comment was made about them at the time," and she probably had little choice in becoming their mistress. Mary's first husband, William Carey, was not an insignificant courtier on whom Mary could be palmed off as "soiled goods"; he was the king's cousin and a rising star. Despite rumors that both Mary's children were Henry's, Weir cites evidence that her son was Carey's. After Anne's fall, it is highly unlikely that Mary tried to intercede for her or was even at court at the time. This nuanced, smart, and assertive biography reclaims the life of a Tudor matriarch whose illustrious descendants include Elizabeth II, Churchill, and Princess Diana. 16 pages of color illus. (Oct.) (c) Copyright PWxyz, LLC. All rights reserved.
---
Book list
From Booklist, Copyright © American Library Association. Used with permission.

This highly regarded and vastly popular British historian, known especially for her rewarding tilling of the rich soil of the Tudor period in English history, turns detective in her latest engaging biography, about the elder sister of Henry VIII's second queen, the briefly enthroned, violently terminated Anne Boleyn. The problem faced by a biographer of Mary Boleyn and thus, the reason Weir performs sleuth work here is the obscurity of the subject herself. So many pockets of misinformation and gaps in knowledge hamper accurate documentation of her life. Was Mary actually older than Anne? Was Mary more attractive than her famously seductive sister or less so? Sent to France in the retinue of Henry VIII's sister, who was to marry the elderly King Louis XII of France, did Mary have an affair with Louis' successor, King Francis I, as her reputation has insisted? And was she later a mistress of King Henry himself, before his tragic involvement with her sister? In answering those questions vital to understanding the life of Mary Boleyn, Weir matches her usual professional skills in research and interpretation to her customary, felicitous style. HIGH-DEMAND BACKSTORY: Best-selling historian Alison Weir has 1.3 million copies of her fiction and nonfiction in print; NPR reviews, an author tour, and national review attention for her new book will be supplemented by an online Tudor Tour sweepstakes hosted on the author's website (www.alisonweir.org.uk).--Hooper, Brad Copyright 2010 Booklist