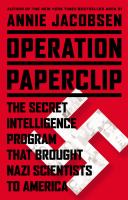 Library Journal
(c) Copyright Library Journals LLC, a wholly owned subsidiary of Media Source, Inc. No redistribution permitted.

At the climax of World War II in Europe, the U.S. government searched for the intellectual bounty of the Third Reich even as the Allied services were hunting Nazi war criminals. So begins this chilling, compelling, and comprehensive accounting by Jacobsen (Area 51) of one of the most secretive of 20th-century U.S. intelligence programs. No, it wasn't a secret that German scientists and engineers came to America after the war, but the extent of their loyalty to the Nazi cause was kept hidden. As Jacobsen ably recounts, these men, including rocket scientist Wernher von Braun and physician Walter Schreiber, were ardent Nazis who participated in war crimes including experiments on humans and the use of slave labor to accomplish their goals for Hitler. They were then recruited by both Soviets and Americans to continue their work during the onset of the Cold War. The U.S. government turned a blind eye to these men's atrocities, helped them avoid justice at Nuremberg, and paid them considerably. In return? Among other things, America won the space race. Built upon archival records, court transcripts, declassified documents, and interviews, Jacobsen's impressive book plumbs the dark depths of this postwar recruiting and shows the historical truths behind the space race and postwar U.S. dominance. VERDICT Highly recommended for readers in World War II history, espionage, government cover-ups, or the Cold War. [See Prepub Alert, 9/1/13.]-Evan M. -Anderson, Iowa State Univ. Lib., Ames (c) Copyright 2014. Library Journals LLC, a wholly owned subsidiary of Media Source, Inc. No redistribution permitted.
---
Book list
From Booklist, Copyright © American Library Association. Used with permission.

*Starred Review* By the end of 1945, the alliance of the Western powers with the Soviet Union had frayed, and the basic outlines of what would become the Cold War had taken shape. At the same time, military, scientific, and political leaders in the U.S. had become acutely aware of the value of German scientists responsible for great advances in rocketry and biological research under the Nazis. So, in August 1945, President Truman authorized the Joint Intelligence Objectives Agency (JIOA), a division of the Office of Strategic Services (OSS), to aggressively recruit German scientists to come to the U.S. and to work for various government-affiliated programs. Truman had stipulated that members of the Nazi Party were not to be included. As Jacobsen, an investigative journalist, illustrates, the JIOA adroitly sidestepped Truman's directive through an intense program of fraud and deception. Documents were forged or altered, wartime activities were covered up, and, in some cases, entirely new identities were created, all in the service of our national interest. Some of these men were only marginal Nazis, but some were fervent true believers directly responsible for war crimes. This is an engrossing and deeply disturbing expose that poses ultimate questions of means versus ends.--Freeman, Jay Copyright 2010 Booklist
---
Choice
Copyright American Library Association, used with permission.

This is a compelling and important book tracing the employment of ex-Nazi scientists, doctors, and technologists in the US. Freelance journalist Jacobsen (Area 51: An Uncensored History of America's Top Secret Military Base, 2011) traces the origins of Project Paperclip, a program started shortly after WW II to offer selected members of the Nazi science and technology establishment the opportunity to work for the US government. The author draws on an impressive collection of primary sources, expanding and building on previous studies by Clarence Lasby, Linda Hunt, Vivien Spitz, and Michael Neufeld. Many of the Project Paperclip transplants (most notably, rocketeer Wernher von Braun) subsequently rose to the highest levels of US science and technology. But the program also enabled some having strong Nazi sympathies to mask and distort their role's as scientists, physicians, and technologists serving the Nazi state. This included individuals such as engineer Arthur Rudolph and medical researcher Hubertus Strughold, who participated in the exploitation, and even murder, of concentration camp prisoners and slave laborers. Revelatory, sobering, and occasionally deeply moving, this is popular science history at its very best. Summing Up: Highly recommended. All levels/libraries. R. P. Hallion Hallion Associates
---
Publishers Weekly
(c) Copyright PWxyz, LLC. All rights reserved

As comprehensive as it is critical, this latest expose from Jacobsen (Area 51) is perhaps her most important work to date. Though Americans are quick to remember the United States' heroic feats in WWII, they tend to be more amnesic (or allergic) toward some of our nation's shadier activities in the effort-one of which seems to have been forgotten altogether. For just as some Nazis awaited trial at Nuremburg, others-namely prominent, potentially useful scientists-were secretly smuggled into the country by the U.S. government to help prepare for an ostensibly impending "total war" with the Soviets. In fact, even an appearance at Nuremburg didn't rule out a trip to the States. Needless to say, what to do with potentially useful war criminals posed an unusual predicament. If such a claim sounds dubious, Jacobsen persuasively shows that it in fact happened and aptly frames the dilemma in terms of "Who would be hired, and who would be hanged?" Rife with hypocrisy, lies, and deceit, Jacobsen's story explores a conveniently overlooked bit of history the significance of which continues to resonate in the national security issues of today. (Feb.) (c) Copyright PWxyz, LLC. All rights reserved.