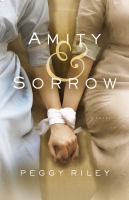 Publishers Weekly
(c) Copyright PWxyz, LLC. All rights reserved

Playwright Riley's debut novel is a harsh but compassionate look at nature vs. nurture through the lens of a polygamous cult. Sisters Amity and Sorrow were born and raised by their mother, Amaranth, the first of the 50 wives of a self-proclaimed prophet, the leader-"preacher, father, husband"-of a doomsday sect. When a confrontation with the law results in gunshots and a fire, Amaranth grabs her teenage daughters, steals a car, and drives for four days until, exhausted, she crashes near a gas station in rural Oklahoma. Sorrow, a self-righteous teenage sociopath who will destroy anyone and anything to prove she is God's chosen one, locks herself in the bathroom, where she has a miscarriage. The more compliant Amity is torn between her mother and her sister, on one side, and a world she's never experienced on the other. As they explore this new world, meeting people and making their own choices for the first time, Sorrow, with off-putting self-involvement masquerading as religious fervor, tries to destroy everyone who tries to help them. Riley's mastery keeps this unusual tale from descending into melodrama, and she makes no easy choices. Sorrow's desperate escalations lead to an unsurprising revelation that is no less powerful for its foreshadowing. A fierce and disturbing novel. Agent: Joy Harris, the Joy Harris Literary Agency. (Apr.) (c) Copyright PWxyz, LLC. All rights reserved.
---
Book list
From Booklist, Copyright © American Library Association. Used with permission.

*Starred Review* In this accomplished, harrowing debut, Amaranth flees her polygamist community with her two teenage daughters, Amity and Sorrow, only to crash her car four days later in the Oklahoma panhandle. Chapters alternate between the present and the past, which reveals communal life with 50 wives (Amaranth is the first) and their husband, Zachariah. Here, arbitrary rules are made in the name of God, and women are given skills for Armageddon and taught to embrace the end of the world. Two events precipitate the flight: a fire in the temple and the discovery that Zachariah has been molesting his daughter, Sorrow, convincing her he is God and that, together, they can make Jesus. In the present, Amaranth comes to view farmer Bradley, owner of the farm where they crashed, as a chance to start over, but damaged Sorrow, who reads oracles in a blue pottery shard, remains steadfastly tied to her beliefs and community. Twelve-year-old Amity, meanwhile, hopes to heal her older sister. Award-winning playwright Riley's descriptive prose is rich in metaphor, and each of her three nuanced main characters are bound in different ways to the overarching theme of the novel: all journeys are made in faith. Owing a debt of gratitude to Steinbeck's The Grapes of Wrath, which Riley acknowledges, this story is slow to build, but the haunting literary drama simmers to a boil as it deftly navigates issues of family, faith, community, and redemption.--Kelley, Ann Copyright 2010 Booklist
---
Library Journal
(c) Copyright Library Journals LLC, a wholly owned subsidiary of Media Source, Inc. No redistribution permitted.

With her deeply traumatized daughters Amity and Sorrow in tow, Amaranth flees her life as the first of 50 wives in a doomsday cult that went up in flames in the Idaho panhandle. Amaranth drives for four days until she crashes her car near a hardscrabble Oklahoma farm. At first, the farm's owner, Bradley, wants nothing to do with the trio, but Amaranth tells him she has nowhere else to go and that she fears her megalomaniacal husband will track them down. Twelve-year-old Amity, whip-smart though illiterate, tries to make sense of her new life while trying to protect Sorrow, who spirals further into religious insanity, desperate to return to the father who raped her. VERDICT This debut novel from an American playwright now living in England is a vivid, horrifying, gorgeously atmospheric tale of the collateral damage sustained by the young victims of polygamous doomsday cults. With a reading group guide. [See Prepub Alert, 10/28/12.]-Beth Andersen, Ann Arbor Dist. Lib., MI (c) Copyright 2013. Library Journals LLC, a wholly owned subsidiary of Media Source, Inc. No redistribution permitted.