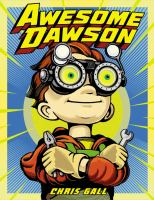 Publishers Weekly
(c) Copyright PWxyz, LLC. All rights reserved

With great horsepower comes great responsibility. So learns Dawson, a boy whose mechanical-mindedness lets Gall make full use of his skill for drafting the sort of straight-from-kids'-dreams machines he showcased in Dinotrux and Revenge of the Dinotrux. With goggles, tool belt, and a massive basement workshop, Dawson is a creative genius in the vein of Dexter (from Dexter's Laboratory, not Dexter). With the support of his sidekick/friend, the equally creepy and hilarious Mooey (a disembodied mechanical cow's head), Dawson creates a giant robot to do his chores for him. As might be expected, the Vacu-Maniac goes out of control, which is what happens when you build robots from whatever is lying around ("The Vacu-Maniac has a brain made of cat food," bleeps Mooey). In the town-threatening battle that follows, Mooey's bodilessness turns out to be an asset. There's a light message about reusing so-called junk to make, well, awesome new inventions (Gall labels every soda can, hockey stick, and grocery cart wheel that goes into Dawson's creations), but the emphasis is on a larger-than-life sense of fun. Ages 3-6. Agent: George Nicholson, Sterling Lord Literistic. (Mar.) (c) Copyright PWxyz, LLC. All rights reserved.
---
School Library Journal
(c) Copyright Library Journals LLC, a wholly owned subsidiary of Media Source, Inc. No redistribution permitted.

PreS-Gr 2-Readers first see Awesome Dawson in his bedroom, which is tricked out with a variety of homemade furniture and toys, captioned with word balloons indicating the materials used for each item. Declaring that "EVERYTHING can be used again," the young inventor descends into his underground workshop to do his thing, but is interrupted by his mom reminding him of his chores. He decides to invent a robot that will do them for him. He connects a rake, broom, watering can, pool hose, and gum-ball machine to an old vacuum cleaner to create the Vacu-Maniac. Unfortunately, he used cat food for the creature's brain, and it now has an insatiable appetite. It sucks up everything in sight, growing bigger until it explodes through the ceiling and starts to attack the town. He goes after it with his rubber-band-powered airplane and with the help of his friend, a talking cow toy, manages to defeat the monster. Like all good superheroes, Awesome Dawson pledges to use his recycling talents only for the good of humankind (and to help with chores). Gall's comic-book-style art was made by engraving on ink-coated clay board and using a wireless drawing tablet and Adobe software to add the bold colors. This technique suits the action of the outrageous story. Aspiring young inventors will enjoy identifying the assorted thingamabobs strewn throughout the pages and will wonder how they can get a talking cow of their own. A rollicking read.-Martha Simpson, Stratford Library Association, CT (c) Copyright 2013. Library Journals LLC, a wholly owned subsidiary of Media Source, Inc. No redistribution permitted.
---
Book list
From Booklist, Copyright © American Library Association. Used with permission.

Dawson is a repurposer extraordinaire. He collects all manner of junk and pieces together tools and toys from suburban detritus (roller skates, a bedsheet, and a crate, for instance, combine into a fun way to get to school ). With his trusted companion, Mooey, a talking cow head with interchangeable bodies, he undertakes his biggest project to date: a giant, chore-doing robot called the Vacu-Maniac. True to his name, the robot soon goes out of control, sucking up everything in his path and growing bigger with each accumulation. By implanting Mooey in the robot's head, Dawson is able to save the day. Gall's busy, saturated spreads combine hand-scratched clay board with digital colorization, resulting in vibrant imagery that is both slick and homespun, like Dawson's own creations. Paneled composition and word-balloon dialogue lend a graphic feel, with glossary labels identifying all the bits and pieces of Dawson's creativity. Superheroes, recyclers, and inventors unite!--Barthelmess, Thom Copyright 2010 Booklist