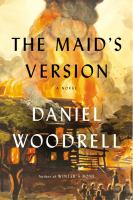 Publishers Weekly
(c) Copyright PWxyz, LLC. All rights reserved

Woodrell's (Winter's Bone) evocative, lyrical ninth novel is deceptively brief and packs a shimmering, resonant, literary punch. In a grand "gesture of reconciliation" from his father, young Alek is sent to West Table, Mo., to spend the summer of 1965 with his grandmother, Alma Dunahew, a hardworking maid to a wealthy local. The bad blood between Alek's father and Alma stems from her opinion of what transpired just before the 1929 Arbor Dance Hall explosion, a tragedy that claimed her outspoken sister Ruby and 41 others. Who was responsible? Gypsies who threatened the townsfolk? The preacher who believed "[e]vil music, evil feet" deserved to be silenced forever? Or was it Ruby's controversial new (married) beau? Sections about some of those who perished fall between chapters detailing an engaging yarn of hidden secrets, but also one that fast-forwards decades to find an adult Alek addressing a memorial vigil, finally getting the chance to talk about what Alma confided to her grandson during the pivotal summer they spent together. From an economy of poetic prose springs forth an emotionally volcanic story of family, justice, and the everlasting power of the truth. Agent: Ellen Levine, Trident Media Group. (Sept. 3) (c) Copyright PWxyz, LLC. All rights reserved.
---
Book list
From Booklist, Copyright © American Library Association. Used with permission.

In his first novel in seven years, Woodrell (Winter's Bone, 2006) returns to the Ozarks to tell the story of a catastrophe based on a real-life occurrence. Alek Dunahew is sent to live with his grandmother, the former housemaid Alma DeGeer Dunahew. Haunted by the death of her sister, Ruby, in the explosion of the Arbor Dance Hall in 1928, Alma's views of the cause of the disaster created a schism between her and one of her sons. But Alek is curious and listens carefully, tucking away Alma's stories of her drunken husband, her wild sister, and her affair with Alma's employer and the mysterious whisperings about mobsters and shootings. Told in meandering flashbacks with a lyrical cadence, the story is gripping and heartrending at the same time. Interspersed with Alma's memories are vignettes of some of the victims of the explosion and how they happened to be at the dance hall on that particular night. With this book, Woodrell confirms his place among the literary masters.--Dickie, Elizabeth Copyright 2010 Booklist
---
Library Journal
(c) Copyright Library Journals LLC, a wholly owned subsidiary of Media Source, Inc. No redistribution permitted.

This brief novel, set in the small Missouri town of West Table, centers on the mysterious 1929 explosion and fire at the Arbor Dance Hall and its effects on a local family across three generations. Among the 43 people killed was Alma DeGeer Dunahew's younger sister Ruby DeGeer. Forever after haunted by the incident, Alma, a maid for one of the town's wealthiest families, is nearly driven crazy by her belief that the tragedy was a criminal act-the result of a scandalous love affair between her sister and her employer. Years later, when Alma's grandson Alek is sent to spend part of a summer with his eccentric grandmother, he begins to learn of the town's secret history and of his family's role. VERDICT Drawing on real-life events that rocked his hometown and his family, Woodrell returns nearly a decade after his celebrated Winter's Bone with a story that feels less of a different time and more timeless-a stark, haunting tale of almost mythic power and sweep. [See Prepub Alert, 3/18/13.]--Lawrence -Rungren, Merrimack Valley Lib. Consortium, -Andover, MA (c) Copyright 2013. Library Journals LLC, a wholly owned subsidiary of Media Source, Inc. No redistribution permitted.