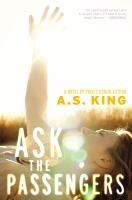 School Library Journal
(c) Copyright 2010. Library Journals LLC, a wholly owned subsidiary of Media Source, Inc. No redistribution permitted.

Gr 10 Up-Astrid Jones is a high-school senior in a small, Pennsylvania town. She's a top student and loves philosophy. (She gives Socrates a first name-Frank.) Her favorite pastime is to lie on the picnic table she and her father built in the backyard and send her love to passengers in the airplanes as they pass overhead. The teen sends her love off to strangers, because she has no use for it at home. She has an agoraphobic, type-A mother who wears business suits and heels when she works from home. While emotionally unavailable to her first born, she regularly plans boozy "Mommy and Me" nights with Astrid's younger sister. Her mother also has a texting relationship with Astrid's best friend. Astrid's father is underemployed and smokes pot all the time. Her sister just wants to fit in with small-town life. And Astrid herself is ambivalent about her sexuality and is being pressured by her lesbian work friend to come out. Her school friends, members of the homecoming court, are pretending to be a couple but are actually gay. The townspeople are small-minded and gossipy. Astrid's overwhelming need to send messages of love to anonymous passengers sometimes appears to touch those passengers, who are also leading lives of quiet desperation. And, sometimes, maybe they can send love to Astrid. King's thoughtful, sad, funny, and frank book is finally about paradox and will appeal to any mature teen resisting the pressure to conform or rebel; anyone who wants to define herself on her own terms; and anyone whose family life belies the 1950s sitcom myth.-Nina Sachs, Walker Memorial Library, Westbrook, ME (c) Copyright 2012. Library Journals LLC, a wholly owned subsidiary of Media Source, Inc. No redistribution permitted.
---
Publishers Weekly
(c) Copyright PWxyz, LLC. All rights reserved

The philosophical searching, surprising spiritual guides, and powerful observations of contemporary life that characterize previous works by King (Everybody Sees the Ants) are in full evidence in a story that's at once much more than a coming-out novel and one of the best coming-out novels in years. High school senior Astrid Jones moved from New York City to Unity Valley, Pa., with her family years ago, but it still doesn't feel like home. Astrid isn't comfortable labeling herself gay ("I'm not in this to be a member of some club. I'm not going through this so I can lock myself in the one of them box"), and the community's homophobia and aggressive rumor mill weigh heavily on her. When several secrets become public, Astrid's relationships are further strained, and she copes by silently sending love to the passengers of airplanes flying overhead (whose brief stories indicate they can sense Astrid's questions and feel the love she unleashes) and carrying on imaginary conversations with Socrates. Funny, provocative, and intelligent, King's story celebrates love in all of its messy, modern complexity. Ages 15-up. Agent: Michael Bourret, Dystel & Goderich Literary Management. (Oct.) (c) Copyright PWxyz, LLC. All rights reserved.
---
Book list
From Booklist, Copyright © American Library Association. Used with permission.

*Starred Review* Astrid has a lot of love to give, and she gives it freely to schoolmates, friends, and even her dysfunctional family. But most of all, she sends her love to the passengers in the planes whizzing high above her small, gossipy, intolerant town: Because if I give it all away, no one can control it. But she does love her coworker Dee and her best friend Christina, whose biggest secret she keeps. Printz Honor Book author King (Please Ignore Vera Dietz, 2010) continues to expertly plumb the lovely numbness of a young person struck by emotional paralysis. Afraid to come out, afraid to be boxed in, and afraid to fall under the scrutiny of her town, Astrid lives a rich inner life, which King depicts with deft magical realist conventions that recall Everybody Sees the Ants (2011). Astrid's consciousness is exemplified by Socrates, an agent of truth and logic who silently judges her for not owning up to her personal truths. King also incorporates the first-person narrations of the passengers in the planes, whose stories unknowingly parallel and carry Astrid's affections and desire for escape. Another thoughtful, and often breathtaking, achievement for King, whose star is ascending as quickly as one of Astrid's planes.--Jones, Courtney Copyright 2010 Booklist