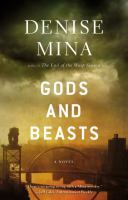 Library Journal
(c) Copyright Library Journals LLC, a wholly owned subsidiary of Media Source, Inc. No redistribution permitted.

During an armed robbery in a Glasgow post office, a grandfather inexplicably steps from the queue to help the gunman before being shot to smithereens. DS Alex Morrow is on the case, despite her exhaustion from having newborn twins. But what begins as a murder investigation turns into a maze of conspiracy and lies. A witness claims the grandfather recognized his killer, but the dead man's widow says it's impossible. Meanwhile, one of Morrow's trusted officers flirts with corruption, and her half-brother, Danny, a notorious gangster, is connected to a scandal that threatens a prominent politician. Although these story lines don't always appear to connect, Mina deftly stitches them together in time for a powerful climax. VERDICT In this third Alex Morrow procedural (after The End of the Wasp Season) Mina again plumbs the depths of the grungy Scottish metropolis, capturing political posturing, class differences, and familial dynamics with equal aplomb. At its center is the cranky, sympathetic Morrow, fast becoming one of the most intriguing cops in crime fiction. Fans of smart, character-driven procedurals will want to snatch this one up. [See Prepub Alert, 8/3/12.]-Annabel Mortensen, Skokie P.L., IL (c) Copyright 2012. Library Journals LLC, a wholly owned subsidiary of Media Source, Inc. No redistribution permitted.
---
Book list
From Booklist, Copyright © American Library Association. Used with permission.

A post-office robbery in Glasgow turns deadly at the start of Mina's latest sharp thriller starring Strathclyde Detective Sergeant Alex Morrow. In the midst of the heist, elderly Brendan Lyons hands off his grandson to an unsuspecting stranger, then assists the AK-47-toting thief in filling bag after bag with cash. Lyons' attempt to keep the peace backfires; the gunman shoots him in the back as he carries the score to the door. Was Lyons, a well-known local activist, in on the crime from the get-go? Meanwhile, more trouble is brewing around town. Charismatic politician Kenny Gallagher faces allegations of an affair with a very young woman, and two of Morrow's colleagues steal money from a drug deal but then, in a crisis of conscience, come clean about the deed. Award-winning Scottish crime writer Mina (The End of the Wasp Season, 2011) once again demonstrates her command of the police procedural, creating a compelling cast of characters, from the likable to the loathsome, and deftly linking the plots in a chilling ending.--Block, Allison Copyright 2010 Booklist
---
Publishers Weekly
(c) Copyright PWxyz, LLC. All rights reserved

At the start of Scottish author Mina's excellent third crime novel featuring Det. Sgt. Alex Morrow (after 2011's The End of the Wasp Season), a lone gunman enters a Glasgow post office, where he orders the patrons to lie on the floor. An elderly gentleman hands his young grandson to a stranger and gets up to assist the robber by filling bags with cash. The gunman then cuts the old man down with a hail of bullets from his AK-47 pistol. Meanwhile, looming budget cuts and police layoffs lure two of Morrow's subordinates into stealing a pile of dirty drug money. Finally, a former labor hero turned politician is caught up in a sex scandal with a 17-year-old female staffer. While Mina keeps Alex's life outside of work mostly on the back burner, she ups the stakes by taking us into the dark, beating heart of modern Glasgow, where the real deals are struck and the spoils divided. (Feb.) (c) Copyright PWxyz, LLC. All rights reserved.