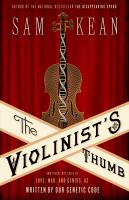 Library Journal
(c) Copyright 2010. Library Journals LLC, a wholly owned subsidiary of Media Source, Inc. No redistribution permitted.

Many considered the Human Genome Project complete in 2003, when a complete draft of the human genetic code was released, though scientists continue to revise and analyze their findings. Best-selling author Kean (The Disappearing Spoon) attempts to take the mystery out of DNA by explaining its structure, its historical impact, and how the science of genetics continues to influence our lives. A good portion of the book examines how modern genetic breakthroughs have helped to explain our evolutionary and historical past and discusses the often quirky stories associated with the major players in genetics research. The latter part of the book concentrates on what the future may hold as computer technology and our base of genetic knowledge expands. Kean aptly illustrates the tremendous amount of work that still remains to be done before we can hope to truly understand DNA. VERDICT Throughout, Kean writes in a relatively unbiased, down-to-earth tone and goes beyond the basic biology to emphasize the social implications of DNA research. Light and witty if rambling at times, this book is recommended for all general readers.-Tina Neville, Univ. of South Florida at St. Petersburg Lib. (c) Copyright 2012. Library Journals LLC, a wholly owned subsidiary of Media Source, Inc. No redistribution permitted.
---
Book list
From Booklist, Copyright © American Library Association. Used with permission.

The violinist alluded to in the title of this comprehensive survey of DNA's many surprising attributes is the late Niccolo Paganini, whose own genetic anomaly of extraordinary finger dexterity contributed to his famous musical virtuosity. Best-selling science-author Kean follows his acclaimed debut, The Disappearing Spoon (2010), about the periodic table, with an equally engrossing collection of facts and anecdotes that, along with the Paganini snippet, includes a wealth of information from the front lines of contemporary genetic research. In addition to revisiting and enlivening many seminal moments leading to DNA's discovery, such as Augustinian friar Gregor Mendel's pea experiments and the cutting backlash Darwin endured regarding natural selection, Kean also focuses on the many secrets forensic gene mapping discloses about human evolution. Some highlights include the revelations that Homo sapiens almost went extinct twice and the unnerving fact that one's ability to survive a nuclear war can actually be inherited. Kean's superlatively readable, jargon-free prose will captivate even normally science-phobic readers.--Hays, Carl Copyright 2010 Booklist
---
Publishers Weekly
(c) Copyright PWxyz, LLC. All rights reserved

As he did in his debut bestseller, The Disappearing Spoon, Kean educates readers about a facet of science, in this case, genetics, with wonderfully witty prose and enthralling anecdotes. The book's title, for instance, refers to the genetic disorder that afflicted-and aided-virtuoso violinist Niccolo Paganini, giving him "freakishly flexible fingers" and enabled him to play in ways most others could not. (It also caused him joint pain, poor vision, and other problems). Kean explains how scientists use DNA to better understand evolutionary relationships across the animal kingdom, to examine Homo sapiens's relationship (both genetic and sexual) with Neanderthals. When Kean discusses the work of pioneers like Darwin, Mendel, Watson, Venter, and McClintock, he illuminates both the science and the politics of science. But he also reminds us to be wary of attributing too much to our genes. "We tend to treat DNA as a secular soul, our chemical essence. But even a full rendering of someone's DNA reveals only so much." Kean's thoughtful, humorous book is a joy to read. Agent: Rick Broadhead, Rick Broadhead & Associates. (July) (c) Copyright PWxyz, LLC. All rights reserved.