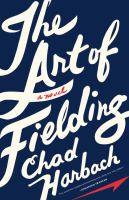 Library Journal
(c) Copyright Library Journals LLC, a wholly owned subsidiary of Media Source, Inc. No redistribution permitted.

In this deft first novel, a baseball prodigy comes to Westish College, a small school in upper Wisconsin. Henry Skrimshander is recruited by Mike Schwartz, who plays at Westish and recognizes Henry as one of the greatest shortstops ever. Henry's roommate, the pot-smoking, gay, African American Owen Dunne, also joins the team. College president Guert Affenlight develops a passionate crush on Owen, with whom he improbably begins a clandestine relationship. Unfortunately, as Henry closes in on a fielding milestone, he loses his confidence and falls apart. Guert's long-lost daughter, who has returned to Westish after the collapse of her marriage and hooked up with Mike, tries to help Henry find his throwing arm again. Meanwhile, the ongoing affair between Owen and Guert becomes increasingly difficult to hide as the book climaxes at the Division III national championship. VERDICT Succeeding on many levels, this highly enjoyable and intelligent novel offers several coming-of-age tales set against the background of an exciting and convincing baseball drama. Harbach paints a humorous and resonant portrait of a small college community while effectively portraying the Wisconsin landscape and a lake that provides an almost mystical source of solace and renewal. This should be a popular novel. [See Prepub Alert, 3/14/11.]-Jim Coan, SUNY Coll. at Oneonta (c) Copyright 2011. Library Journals LLC, a wholly owned subsidiary of Media Source, Inc. No redistribution permitted.
---
Publishers Weekly
(c) Copyright PWxyz, LLC. All rights reserved

Recalling works as disparate as Chaim Potok's The Chosen, John Irving's A Prayer for Owen Meany, and Scott Lasser's Battle Creek, Harbach's big-hearted and defiantly old-fashioned debut demonstrates the rippling effects of a single baseball gone awry. When college shortstop phenom Henry Skrimshander accidentally beans teammate Owen Dunne with a misplaced throw, it starts a chain reaction on the campus of Westish College, "that little school in the crook of the baseball glove that is Wisconsin." Owen is solicitously visited in the hospital by school president Guert Affenlight, a widower, who falls in love with the seductive gay student, a "serious breech of professional conduct" that sends potentially devastating ripples through the school. Affenlight's daughter, Pella, after a failed marriage in San Francisco, returns to become part of a love triangle with Henry and Mike Schwartz, the team captain and Henry's unofficial mentor. And just when Henry's hopes of playing for the St. Louis Cardinals come within reach, he suffers a crisis of confidence, even as his team makes a rousing run at the championship. Through it all, Henry finds inspiration in the often philosophically tinged teachings found in The Art of Fielding ("Death is the sanction of all that the athlete does"), by a fictional retired shortstop. Harbach manages incisive characterizations of his five main players, even as his narrative, overlong and prone to affectation, tests the reader's patience.(Sept.) (c) Copyright PWxyz, LLC. All rights reserved.
---
Book list
From Booklist, Copyright © American Library Association. Used with permission.

*Starred Review* Sports fiction has a built-in plot problem. The drama usually rides on a team's success or failure as it moves through a season to the Big Game. The team either overcomes adversity and wins, following in the cliche-strewn tradition of everything from The Bad News Bears to Rocky, or it loses, a literarily more resonant route, to be sure, but inevitably unsatisfying if the reader has become a fan along the way. First-novelist Harbach finds an inventive and thoroughly satisfying solution to the Big Game problem, and it works because the reader doesn't live or die with what happens on the field. This sprawling multiple-story saga follows the coming-of-age and midlife crises of five characters at Westish College, a small liberal-arts school in Wisconsin. At the center of it all is Henry Skrimshander, a shortstop of phenomenal ability who has led the school's baseball team to unprecedented heights. Then a wildly errant throw from Henry's usually infallible arm provides the catalyst for game-changing events not only in Henry's life but also in those of his roommate, Owen Dunne; his best friend and mentor, the team's catcher, Mike Schwartz; the school's president, Guert Affenlight; and the president's daughter, Pella. In an immediately accessible narrative reminiscent of John Irving, Harbach (cofounder of the popular literary journal n+1) draws readers into the lives of his characters, plumbing their psyches with remarkable psychological acuity and exploring the transformative effect that love and friendship can have on troubled souls. And, yes, it's a hell of a baseball story, too, no matter who wins.--Ott, Bil. Copyright 2010 Booklist