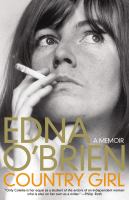 Book list
From Booklist, Copyright © American Library Association. Used with permission.

*Starred Review* The doyenne of contemporary Irish letters did not enjoy a straight-line rise to international fame and critical regard. In fact, for many years, O'Brien's novels were banned in her native Ireland for indecency. Now, of course, in more relaxed and open-minded times, her fiction (brilliant short stories as well as novels) is seen for what it always was, richly illuminating and, yes, candid depictions of women's needs and desires, rendered with no sentimentality or salaciousness. Born into a rural family that once knew wealth but at the time of her birth had only memories of better times, Edna had a precocious interest in being a writer. Convent schooling is remembered in this absorbing memoir as dour. Relatively sophisticated Dublin beckoned. She answered the call by apprenticing in a chemist's shop in the capital, all the while convinced she would meet poets and that one day she would be admitted into the world of letters. She and the husband she had acquired moved to London (her marriage was to prove untenable), and there she began writing in earnest and with success. At this point in her remembrance, her memoir shifts into something different in substance and tone. Her unembellished Irish upbringing gives way to the glamour of the celebrity life she led in London. Still, her book is a beautifully expressed testament to a writer's tenacity.--Hooper, Brad Copyright 2010 Booklist
---
Library Journal
(c) Copyright 2010. Library Journals LLC, a wholly owned subsidiary of Media Source, Inc. No redistribution permitted.

O'Brien's (A Fanatic Heart) memoir chronicles her journey from the Catholic restraints of her childhood in Ireland to her success as a prolific writer. In 1960, O'Brien shocked Ireland with her debut novel, The Country Girls, a sexually outspoken story about young women in love whose needs often conflict with those of their male counterparts. This led to strong disapproval from the Irish Catholic community. Yet her writing found an appreciative audience in the wider world. She lived the Swinging Sixties life in London, taking LSD and hanging out with such celebrities as Paul McCartney, Robert Mitchum, and Sean Connery, furthering her reputation as a wild, unconventional woman. VERDICT While O'Brien overly devotes her time to cataloguing the notable actors, writers, and politicians of her acquaintance, the accounts of her childhood and her descriptions of Ireland soar with a lyricism reminiscent of Joyce. Recommended for memoir lovers and readers with a desire for more insight into this important 20th-century literary figure.-Nancy R. Ives, SUNY at Geneseo (c) Copyright 2013. Library Journals LLC, a wholly owned subsidiary of Media Source, Inc. No redistribution permitted.
---
Publishers Weekly
(c) Copyright PWxyz, LLC. All rights reserved

Demure reflections on her celebrated literary life well lived comprise this lovely memoir by Irish novelist and short story author O'Brien (Saints and Sinners). Organized thematically, O'Brien meanders from her deeply Catholic, decidedly respectable upbringing in Drewsboro, County Clare, where the budding young writer experienced the sensuous rural impressions that imbued her early work, through schooling with the Galway nuns and a four-year apprenticeship at a chemist's shop in Dublin. But she yearned for a glittering literary world, "with all its sins and guile and blandishments." Indeed, marrying the older, cosmopolitan novelist Ernest Gebler in her early 20s allowed O'Brien instant entree into the literary milieu. She also gave birth to two sons. The publication of her first novel, The Country Girls, in 1960, spelled both the end of her marriage to a seething, resentful husband and her start as the novelist of the moment, reviled by the church for her depictions of liberated, sexual women while feted by literary lions of London and New York. Fetching, game, and talented, O'Brien attracted numerous famous studs, and she makes some bedroom confessions, revealing a night of "sparkle" with Robert Mitchum. The book also includes lively depictions of her Saturday-night parties in her house in Putney, England, during the Swinging Sixties. From Chelsea to New York to Donegal, O'Brien always returns to the enduring heart of her writing. Agent: Ed Victor, Ed Victor Literary Agency. (Apr.) (c) Copyright PWxyz, LLC. All rights reserved.