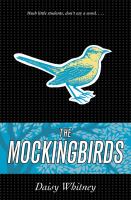 Book list
From Booklist, Copyright © American Library Association. Used with permission.

Silence does not equal consent. . . . The only thing that means yes is yes. When Alex, a junior at Themis, a New England boarding school, wakes up naked in a boy's bed, she doesn't immediately realize what has happened during the previous drunken night. As fragmented memories return, though, she begins to understand that what happened was date rape. With the encouragement of her friends and older sister, Alex submits her case to the Mockingbirds, an underground justice system inspired by Harper Lee's classic novel, in which Themis students investigate and try crimes committed against other students. Whitney, whose author's note discusses her own teenage experience of date rape and its aftermath, is a seasoned journalist, and she writes with smooth assurance and a propulsive rhythm as she follows Alex through the Mockingbird's trial process and its accompanying emotional storm of confusion, shame, fear, and finally, empowerment. Authentic and illuminating, this strong debut explores vital teen topics of sex and violence; crime and punishment; ineffectual authority; and the immeasurable, healing influence of friendship and love.--Engberg, Gillian Copyright 2010 Booklist
---
School Library Journal
(c) Copyright Library Journals LLC, a wholly owned subsidiary of Media Source, Inc. No redistribution permitted.

Gr 9 Up-Alex wakes up in a strange bed, naked, and with a terrible headache, lying next to a boy whose name she doesn't know. A junior at an elite boarding school, she is used to a controlled and nearly perfect life. Among all the talented and special students at Themis Academy, Alex is a standout as a classical musician. How could she have been so stupid as to have sex-for the very first time-with this stranger? It takes several days, and the support of her roommates and friends, for her to piece together the events that led up to that horrible morning. The portrayal of the aftermath of alcohol-fueled sexual assault is particularly well drawn. Alex is confused, disoriented, and deeply shamed, but her friends help her understand that, no matter how drunk she was, sex without consent is rape. There is no help from the school authorities, who have failed to protect students from one another in the past, so Alex turns to the Mockingbirds. This semisecret society is an ingenious student-initiated justice system that holds individuals responsible for their actions. Just like in the world outside, the wheels of justice turn slowly, but ultimately Alex has the satisfaction of holding her assailant to account. Particularly poignant is Alex's growing relationship with a kind and caring boy who helps her regain her equilibrium and look to the future. Written with a deep awareness of post-trauma experience and a keen ear for high school dialogue, this novel makes an impassioned case for youth taking responsibility for the actions of their peers.-Carolyn Lehman, Humboldt State University, Arcata, CA (c) Copyright 2011. Library Journals LLC, a wholly owned subsidiary of Media Source, Inc. No redistribution permitted.
---
Publishers Weekly
(c) Copyright PWxyz, LLC. All rights reserved

First-time author Whitney boldly addresses date rape, vigilantism, and academic politics in an intense and timely novel, set at the elite Themis Academy. The facts about what happened to high school junior Alex after a concert are fuzzy at first. She wakes up naked in a fellow student's bedroom with a hangover and no recollection of how she got there. Bit by bit, the horrors of the previous night come back to her, forcing her to conclude she's had nonconsensual sex with someone she barely knew. Avoiding the boy who took advantage of her during her drunken state doesn't ease her anxiety; neither does the prospect of telling authorities what occurred. Instead of going to the police or to school officials, Alex solicits the aid of the Mockingbirds, a clandestine group of students bent on serving justice. Candid first-person narration expresses Alex's doubts and convictions while raising relevant questions regarding her method of righting a wrong. Besides showing skill in executing suspense and drama, Whitney masterfully evokes the complexity of her protagonist's emotions, particularly her intense longing to feel "normal" again. Ages 15-up. (Nov.) ~ (c) Copyright PWxyz, LLC. All rights reserved.