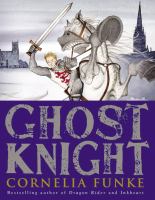 Publishers Weekly
(c) Copyright PWxyz, LLC. All rights reserved

Funke follows her foray into YA (Reckless) with a simultaneously creepy and romantic middle-grade ghost story that will please her legions of younger fans. Jon Whitcroft, now 19, recounts his momentous 11th year when, sent against his will to boarding school in Salisbury, England, he raises a dead knight from restless slumber, fights off a murderous ghost, and makes peace with his mother's fiance. Having been "the man around the house, uncontested hero to my sisters and apple of my mother's eye," until the arrival of his mother's new boyfriend (dubbed "The Beard"), Jon is homesick and cranky about being "banished." Those gripes are quickly forgotten when he is harassed by the ghost of a family enemy who has spent the centuries exacting revenge on Jon's male ancestors. Jon is the next target until Ella, the prettiest girl in school and (conveniently) the granddaughter of the local ghost expert, comes to his aid. Despite the book's length, the story moves quickly, filled with daring midnight expeditions and close calls with death. Final artwork not seen by PW. Ages 8-12. Agent: Oliver Latsch Literary Agency. (May) (c) Copyright PWxyz, LLC. All rights reserved.
---
Book list
From Booklist, Copyright © American Library Association. Used with permission.

Sent to his late father's boarding school in nearby Salisbury, England, 11-year-old Jon sees the change as banishment, or possibly punishment for his antagonism toward Mum's boyfriend (aka the Beard). Jon initially wallows in homesickness, self-pity, and hatred of the Beard, but these preoccupations are dwarfed by his terror when he is hounded by murderous ghosts bent on ancestral revenge. With the help of his classmate Ella, Jon hides in Salisbury Cathedral at night and raises the ghost of a medieval knight to defend him. Funke uses her storytelling skills to create an exciting narrative while juxtaposing Jon's problems at home with his new life at school and the ghostly reality around him. Though the story occasionally relies on coincidence, readers will happily suspend disbelief to follow Jon's expeditions to Stonehenge, a cemetery after dark, a haunted abbey, and a medieval battlefield. The many black-and-white drawings, though not seen in final form, capture the spirit of the story and intensify its drama, wit, and charm. HIGH-DEMAND BACKSTORY: Funke's legion of fans are always interested in what she is up to. Her middle-grade audience will be pleased she is turning her attention back to them.--Phelan, Carolyn Copyright 2010 Booklist
---
School Library Journal
(c) Copyright Library Journals LLC, a wholly owned subsidiary of Media Source, Inc. No redistribution permitted.

Gr 5-8-Jon Whitcroft, 11, relishes the maniacal tricks he plays on "The Beard," his stepfather-to-be, but his mother is not amused and sends him to a boarding school in Salisbury (England). His troubles multiply when he encounters a bloodthirsty ghost who vows to kill him because of an ancient feud with the Whitcrofts. Jon and his schoolmate Ella summon Sir William Longspee, a medieval ghost knight, to fight off Stourton. In return, Jon promises to find Longspee's stolen heart and return it to his wife's spirit so he can rest in peace. Salisbury cathedral makes a fitting setting for a story steeped in historical detail. Readers will shiver in pleasure at ghostly duels in graveyards and beneath Gothic vaulted ceilings. Jon's problems seem believable, and the first-person conversational style creates an intimate, informal tone. Offermann's illustrations are a gift to readers. Carefully thought-out perspectives and soaring lines contrast the massive cathedral with its temporally bound human inhabitants. However, a few problems mar the story's potential. Readers may wonder why Jon chooses to tell the story eight years later and with an adult sensibility. The major action, defeating Stourton, ends 100 pages before the conclusion, which makes for an extended period of falling action. Several significant plot twists turn on coincidence. While Latsch's translation is often lyrical, it occasionally stumbles ("Ella never makes too many words"). Funke's gift is demonstrating the transformative power of adventure. During those moments, readers will be delighted.-Caitlin Augusta, Stratford Library Association, CT (c) Copyright 2012. Library Journals LLC, a wholly owned subsidiary of Media Source, Inc. No redistribution permitted.