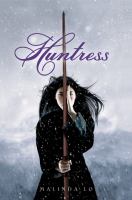 Publishers Weekly
(c) Copyright PWxyz, LLC. All rights reserved

Two teenage girls-Taisin, a sage who has visions, and Kaede, a brave fighter from a powerful family-must travel to see the Fairy Queen to try and save their land. A persistent winter has settled over their kingdom for two years, halting not only trade and harvests but the natural course of life itself, and threatening the survival of Taisin and Kaede's fellow citizens. The journey to the city of Taninli, home of the Fairy Queen, is treacherous, and along the way Taisin, Kaede, and their travel companions face many dangers and tests of their abilities, not least of which are Taisin and Kaede's growing feelings for each other. Lo's storytelling and prose are masterful, and her protagonists will fascinate, particularly Taisin and her relationship to death and its accompanying rituals, her visions, and the way she can occupy another's mind. As with Ash, Lo's characters are emotionally reserved, which makes the unfolding of romance between Kaede and Taisin all the more satisfying. Fans of Garth Nix's Abhorsen trilogy will love this. Ages 15-up. (Apr.) (c) Copyright PWxyz, LLC. All rights reserved.
---
Book list
From Booklist, Copyright © American Library Association. Used with permission.

Set in the same universe as but in an era long preceding that of Lo's earlier fantasy, Ash (2009), Huntress follows the physical, intellectual, and romantic adventures of two teen girls: apprenticing guard and huntress Kaede and future sage Taisin. Elowen, the daughter of the Fairy Queen, threatens to destabilize and destroy both the land of fey and the land of humans; Kaede and Taisin must employ their different strengths to face and overcome her and to rescue the Fairy Queen. Along the way, the two girls recognize and act upon their attraction to each other, knowing that they have no future together because of Taisin's vocation. Lo's alternately languid and heated descriptions of the politics and obstacles in Kaede's life from her father's presumption to marry her off to her fight with Elowen build a compelling world to pull in readers and hold them fast to the final page. A gripping fantasy with high appeal for fans of Ursula K. Le Guin as well as for readers in search of a smart, female-dominated adventure tale.--Goldsmith, Francisca Copyright 2010 Booklist
---
School Library Journal
(c) Copyright Library Journals LLC, a wholly owned subsidiary of Media Source, Inc. No redistribution permitted.

Gr 10 Up-Set in the same world as Ash (Little, Brown, 2009) but centuries earlier, this stand-alone novel tells the story of Kaede, a 17-year-old studying at the Academy of Sages. When climate changes cause terrible storms resulting in the loss of crops and livestock, she, along with Taisin, another sage-in-training and seer; Con, the king's son; and some trusted guards are sent to renew an ancient treaty with the Fairy Queen, hoping that together they might restore order to the land. After many arduous weeks of travel, they arrive only to discover that the fairy realm is in straits nearly as dire as those they left behind in the human lands. Together, the three young people embark on a desperate mission to destroy the being responsible for draining the fay of their magic and wreaking havoc on the land. In spite of the prohibition against sages forming intimate relations, feelings develop between Kaede and Taisin, and the two girls must decide whether to follow their hearts or their destinies. Lo has created a wonderfully detailed world, and this dynamic and moving story of love that must find a way against nearly insurmountable odds will be as well received as Ash. Select where historical fantasy and GLBT fiction are popular.-Jane Henriksen Baird, Anchorage Public Library, AK (c) Copyright 2011. Library Journals LLC, a wholly owned subsidiary of Media Source, Inc. No redistribution permitted.