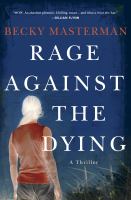 Publishers Weekly
(c) Copyright PWxyz, LLC. All rights reserved

Resist any temptation to bail after the creepy prologue-a sexual predator's-eye-view of the woman he's about to attack-because then you'll miss one of the most memorable FBI agents since Clarice Starling as well as a killer debut thriller. At 59, Brigid Quinn has officially closed the book on a legendary-and controversial-Bureau career, including years undercover, and is struggling to forget the horrors that still haunt her as a newlywed in a suburb north of Tucson, Ariz. Then the authorities arrest trucker Floyd Lynch, who claims to be the Route 66 Killer-the one notorious homicide case she didn't close, and which seven years earlier claimed the life of her protegee, rookie undercover agent Jessica Robertson. But some things just don't add up to either young FBI agent Laura Coleman or Quinn. The steely veteran finds herself thrust back into a nightmare that threatens to shatter her new life-if it doesn't get her killed. First-time novelist Masterman, acquisitions editor for a press specializing in forensic medical textbooks, ratchets up the suspense with a secondary plot it would be criminal to reveal, stumbling only when it comes to Quinn's less than convincing domestic bliss with a widowed former priest turned college professor and his pair of pugs. Agent: Helen Heller, the Helen Heller Agency. (Mar.) (c) Copyright PWxyz, LLC. All rights reserved.
---
Book list
From Booklist, Copyright © American Library Association. Used with permission.

Brigid Quinn is a retired FBI agent who was forced out over shooting an unarmed man. She spent her career undercover, working on sexual predator cases, and trained her protege, Jessica, to follow in her footsteps. Jessica went missing while working on a serial-killer case, and Brigid never recovered from the loss. Several years later, she is happily married and living an idyllic life in Tucson when she learns that there has been an arrest in the case, but the new agent working it, Laura Coleman, thinks the confession is false. When Coleman disappears and the bureau doesn't seem to notice, Brigid finds herself in the thick of things once again, only this time she is worried about losing another agent, her husband, and her newfound happiness. Brigid is a marvelous character, and her skills are fearsome for someone her age. Although Brigid sometimes takes things too far, stretching the bounds of credulity, it is worth the suspension of disbelief to hang with her. Fans of Lisa Gardner and Tess Gerritsen will love this book.--Alesi, Stacy Copyright 2010 Booklist
---
Library Journal
(c) Copyright Library Journals LLC, a wholly owned subsidiary of Media Source, Inc. No redistribution permitted.

Yes, this debut thriller has a fast-paced, action-filled plot littered with serial killers and their victims. Yes, its portrayal of FBI procedures resonates with authenticity, and the romantic subplot is engaging. But, most of all, it is the savvy heroine/narrator, Brigid Quinn, who will capture the reader's attention. Brigid is a 59-year-old retired FBI agent with a bad back, a history of alcohol abuse, and a questionable officer-involved shooting in her past. Yet she's made a new life for herself in the outskirts of Tucson by marrying widowed philosophy professor and former priest Carlo DiForenza. She's taken up cooking and gardening and has come to love twilight strolls with her new husband and their two rambunctious pugs. However, when the loose ends of an old unsolved case begin to intrude on her idyllic life, Brigid quickly finds herself caught up in the intrigue despite her desperate desire to shield Carlo from the reality of her past. Verdict Masterman lives up to her name in this masterly combination of compelling character and plot to keep the pages turning. And readers of a certain age will love her middle-aged protagonist. [Library marketing; Minotaur 1st Edition Selection.]-Nancy McNicol, Hamden P.L., CT (c) Copyright 2013. Library Journals LLC, a wholly owned subsidiary of Media Source, Inc. No redistribution permitted.