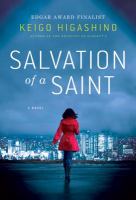 Library Journal
(c) Copyright Library Journals LLC, a wholly owned subsidiary of Media Source, Inc. No redistribution permitted.

A man is found poisoned to death in his home a few days after he announced to his wife his desire for them to separate. Tokyo detective Kusanagi and his partner begin to round up the suspects, with the jilted wife as the leading contender. Was it the girlfriend, the business associate, or a random act of violence? The solution eludes the investigators until physics professor Yukawa, known as Detective Galileo, is introduced to the case. But even his brilliant mind can't seem to connect all the pieces. VERDICT This intricate, sophisticated story will pique the interest of the most avid mystery readers, especially those who loved the author's acclaimed The Devotion of Suspect X. With this new book, Higashino has taken the art and craft of mystery writing to a new level of excellence. [See Prepub Alert, 7/12.]-Ron Samul, New London, CT (c) Copyright 2012. Library Journals LLC, a wholly owned subsidiary of Media Source, Inc. No redistribution permitted.
---
Book list
From Booklist, Copyright © American Library Association. Used with permission.

Edgar-nominee Higashino (The Devotion of Suspect X, 2011) offers an audacious premise as, in the opening pages, he all but tells us that Ayane Mita is going to poison her husband, Yoshitaka Mashiba. Then Yoshitaka is, indeed, poisoned via arsenic in his coffee. However, Ayane is out of town and well alibied. As mismatched detectives Kusanagi and Utsumi pursue the truth, aided by the prickly, exacting professor Yukawa, we become more and more certain Ayane did it but, like the detectives, we can't possibly imagine how it could ever be proved. Has she committed the perfect crime? Despite the Toyko setting, Higashino isn't interested in atmosphere, and he's not really interested in plumbing the depths of the characters' emotional lives, either. Instead, this plays out in a series of interviews, reinterviews, and hypothetical conversations that focus on the smallest nuances of evidence and motive. Readers who prefer guns-drawn action won't respond, but those who thrill to the cerebral pleasures of deduction will drink it right down . . . keeping a wary eye on their own cups of coffee.--Graff, Keir Copyright 2010 Booklist
---
Publishers Weekly
(c) Copyright PWxyz, LLC. All rights reserved

Howdunit, rather than whodunit, appears to be the central question of Edgar-finalist Higashino's brilliant second mystery featuring Tokyo police detective Manabu Yukawa (after 2011's The Devotion of Suspect X). After Yoshitaka Mashiba tells his wife, Ayane, that their short marriage is over because she hasn't become pregnant, Ayane thinks about "the white powder hidden in a sealed plastic bag" and decides that her husband has to die, adding a cryptic "too." When Ayane leaves town to tend to an ailing parent, her protege, who's also her husband's mistress, stops by to find Mashiba dead of what turns out to be arsenic poisoning. How did the poison enter the victim's system at a time when the obvious suspect, the scorned wife, was away? While readers of classic mysteries will be delighted with the elegant solution, the book will also appeal to fans of procedurals that carefully develop the relationships among the investigative team members. Agent: Anna Stein, Aitken Alexander Associates. (Oct.) (c) Copyright PWxyz, LLC. All rights reserved.