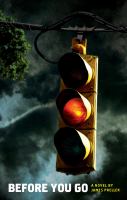 Publishers Weekly
(c) Copyright PWxyz, LLC. All rights reserved

Like the Beatles' hit for which he's named, 16-year-old Jude Fox is, in fact, carrying the weight of the world on his shoulders. His is a gloomy story, conveyed by an omniscient narrator, which opens with a fatal car crash and flashes back to uncover an event just as tragic: the death of Jude's four-year-old sister, Lily, six years earlier. The circumstances of Lily's death are teased out by a good-looking cashier Jude meets at his summer job at Long Island's Jones Beach. Further tension is provided by readers' knowledge that one of the main characters has died in the car crash. These elements don't pack the punch they might, perhaps because important secondary characters like Jude's parents are not given enough dimension. The poetic prose often betrays an adult sensibility, though there are many beautiful passages, such as one that conveys Jude's wonder over how Becka, the cashier, makes him feel. "Kiss me again and again until all the stars crowd the sky like scattered salt on black rock." Readers will hope Jude has many more such moments. Ages 12-up. Agent: Rosemary Stimola, Stimola Literary Studio. (July) (c) Copyright PWxyz, LLC. All rights reserved.
---
Book list
From Booklist, Copyright © American Library Association. Used with permission.

For an older audience than Bystander (2009), Preller's latest takes on intense issues of love, friendship, and haunting sorrow. Jude, 16, gets his first summer job working for minimum wage with his best friend, Corey, cleaning and serving in a fast-food restaurant, where he falls in love with gorgeous cashier Becka. She seems to like him back, and he hopes that she will not use the f-word (as in let's just be friends ). Jude's mocking take on the soft-cushioned boredom of suburban life is funny, but it is not all lighthearted. Jude remains haunted that he caused the death of his little sister when he was nine years old gone, and yet she was everywhere and when another tragedy occurs, Jude blames himself again and turns viciously on Becka. Can she forgive him? The realistic workplace scenes and the fast, wry, contemporary dialogue will hook readers, as will the moving drama of grief and guilt.--Rochman, Hazel Copyright 2010 Booklist
---
School Library Journal
(c) Copyright Library Journals LLC, a wholly owned subsidiary of Media Source, Inc. No redistribution permitted.

Gr 9 Up-Jude's summer is probably going to be a disaster. At least if his crappy concession-stand job on a Long Island beach is any indication. His parents, distant as ever since his sister drowned seven years earlier, leave him alone. Things look up a little when he spends time with his friends from school and those from work. And there is Becka. They love hanging out and they get along with each other's friends. Then something horrible happens, and Jude cannot handle it. All of the unresolved feelings from his sister's death compound with this latest tragedy. It's not just the summer that's awful; its Jude's life. This is a character-driven story with a plot that's a bit of a bore. The majority of the book is told from the teen's point of view, but there are a couple brief sections, a paragraph or two in the middle of a scene, that lapse into someone else's thoughts without any warning. These bits seem out of place and they break the feeling that the author is trying for. The story is supposed to be about Jude's journey through grief and faith, with the faith part as more of a footnote. The end leaves readers feeling a little hope and a little fear for him. He seems to be on the mend, but balanced on the edge of a dull knife, where he might be okay, or he might not. The idea for this book is steeped in reality and makes one wonder just how much grief a person can be expected to bear, but the execution does not make for an interesting read.-Melyssa Kenney, Parkville High School. Baltimore, MD (c) Copyright 2012. Library Journals LLC, a wholly owned subsidiary of Media Source, Inc. No redistribution permitted.