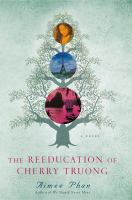 Publishers Weekly
(c) Copyright PWxyz, LLC. All rights reserved

In her debut novel, Phan traces the difficulties of forming identity and preserving family for Vietnamese refugees on two continents. When Sanh Truong unexpectedly marries Tuyet Vos, neither family is pleased. And Sanh's parents are further disappointed when Sanh goes with his wife and her family to America after the Vietnam War ends, rather than to Paris with them. Both families encounter difficulties as they try to integrate into their new societies. The Vos family finds commonality but also corruption in the Little Saigon neighborhood of Orange County, Calif., while the Truongs-whose Catholic faith provides a ready-made community in Paris-come to realize the limits of their French hosts' hospitality. Sanh and Tuyet's daughter, Cherry, born in the U.S. and coming of age in the late 20th century, is the only one with the potential to develop clarity about both her generation's struggles and her grandparents' failings. Told from the point of view of half a dozen characters from three generations, carefully crafted chapters read-with varying degrees of success-like short stories. "People don't realize how long it takes to heal," Phan writes. Stretching from 1979 to 2002, this deliberately paced novel demonstrates, through more than two decades of the Vietnamese immigrant experience, how true that is. Agent: Dorian Karchmar, WME Entertainment. (Mar.) (c) Copyright PWxyz, LLC. All rights reserved.
---
Library Journal
(c) Copyright Library Journals LLC, a wholly owned subsidiary of Media Source, Inc. No redistribution permitted.

Phan's follow-up to her debut, We Should Never Meet-a Kiriyama Prize Notable Book in 2005-is a touching relational and multigenerational family story between the Truongs and the Vos, with model student and granddaughter Cherry and her not so exemplary older brother, Lum, at the center. Set in 2002, the story discloses family secrets as Phan moves between present and past to chronicle each family's emigration from Vietnam to either Orange County, CA, or Paris, France. Within each family, the stories are further broken down as the ties among mothers, daughters, sons, husbands, wives, and cousins are unraveled. By not shying away from issues such as infidelity, gambling addiction, and racism in describing the various hardships experienced by her characters, Phan makes this a strong and realistic work. VERDICT Phan's intricate storytelling recalls Amy Tan's Joy Luck Club in her ability to bind the family histories together but without the mystical spirituality that marks Tan's writing. Readers familiar with the work of Bich Minh Nguyen (Short Girls) should also enjoy this freshly presented story of the Vietnamese American experience.-Shirley N. Quan, Orange Cty. P.L., Santa Ana, CA (c) Copyright 2012. Library Journals LLC, a wholly owned subsidiary of Media Source, Inc. No redistribution permitted.
---
Book list
From Booklist, Copyright © American Library Association. Used with permission.

When Cherry Truong asks for a trip to Vietnam, she expects a certain amount of resistance from her family. Ever since her older brother was exiled to live in Vietnam with distant relatives years ago, Cherry has been well aware that her immediate family's opinion of the home country is not sweetly nostalgic. Dismissing their reservations, Cherry decides to make the trip. After meeting her brother's fiancee, touring his new job site, and learning about the culture that her family has chosen to forget, Cherry's original mission to bring her brother back to the U.S. becomes entirely unclear. A story of loyalties, histories, and identities, The Reeducation of Cherry Truong explores multiple generations of the Truong and Vos families. Touching on the events of the Vietnam War, cultural assimilation, reconciliation, forgiveness, and redemption, Phan crafts an epic tale. Through Cherry's eyes, the complex country of Vietnam is lovingly explored in immense, realistic detail. Readers of Maxine Hong Kingston and Gish Jen will enjoy Phan's sensitive, lush prose and recognize similar questions of identity.--Turza, Stephanie Copyright 2010 Booklist