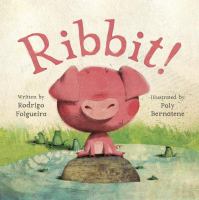 Publishers Weekly
(c) Copyright PWxyz, LLC. All rights reserved

In a story from the duo behind Bob the Dog, a pink pig appears on a rock in a pond amid a large family of anxious frogs, confounding them all by enigmatically repeating "Ribbit," like a cheerful cousin to Poe's raven. What is the meaning of his call? Has he decided not to be a pig anymore? "This new relative of yours is a little pink!" says a raccoon, cocking his head skeptically. Bernatene's animals, painted on paper whose grain can be seen underneath the washed strokes of color, have oversize snouts and eyes whose expressions range from puzzlement to consternation. A consultation with the local wise beetle produces an answer: "Maybe... he just wanted to make new friends." But when they return, the pig has moved on. Silly animals that don't know what to do are a perennial favorite, and Bernatene has an instinctive sense for visual comedy, as when the pig realizes that things aren't going according to plan with the tiniest twitch of a porcine eyebrow. Sometimes, Folgueira reminds readers, the wisdom of the crowd is actually foolishness. Ages 3-6. (Mar.) (c) Copyright PWxyz, LLC. All rights reserved.
---
Book list
From Booklist, Copyright © American Library Association. Used with permission.

A family of frogs have no idea why there's a pig sitting on a rock in their pond, saying Ribbit! Does he think he's a frog? Is he making fun of us? they ask. News of the pig-frog travels fast, and soon a raccoon, a turtle, and a weasel have arrived to witness the curiosity for themselves. With no more than Ribbits of explanation from the pig, the animals seek the council of a wise beetle; but when the beetle, who can't travel all that quickly, arrives back at the pond, the rock is empty. Maybe, he says, the pig just wanted to make new friends. Sure enough, our little pink pig has up and moved to a tree nearby, perched with the birds, and is practicing his Tweet! This is a sweet story about friendship, but it's Bernatene's illustrations of heavily textured and hugely expressive animals that are a joy. The frogs in particular charm, with their growing outrage expressed in skinny crossed arms and lolling eyeballs. Get ready to Ribbit at friendship-themed story hours.--Kelley, Ann Copyright 2010 Booklist
---
School Library Journal
(c) Copyright Library Journals LLC, a wholly owned subsidiary of Media Source, Inc. No redistribution permitted.

K-Gr 2-In this charming tale of friendship, a frog family wakes up one morning to find an unexpected guest at their pond. "It was a pig-a little pink pig-sitting on a rock." The suspicious frogs are flummoxed by his arrival, and when the visitor will only "ribbit" to explain his presence, the frogs, along with a variety of woodland busybodies, become flustered and annoyed. Finally they consult the wise old beetle, but by the time they explain the dilemma and bring the beetle back to witness the phenomenon, the pig has disappeared. The animals are confused and curious as to the meaning of his appearance, and the beetle suggests that perhaps the piglet just wanted to make friends. "`Oh dear!' said the animals. They hadn't thought of that!" All ends well with the frogs and other animals joining the little porker with his newest group of friends-perched in a tree. "Tweet!" Bernatene's sassy, fretful frogs are delightfully expressive and unique, especially when contrasted with the supremely self-assured and content piglet. Both illustrations and story work equally well for large groups or one-on-one, and the narrative packs enough emotional punch for dramatic read-alouds.-Anna Haase Krueger, Ramsey County Library, MN (c) Copyright 2013. Library Journals LLC, a wholly owned subsidiary of Media Source, Inc. No redistribution permitted.