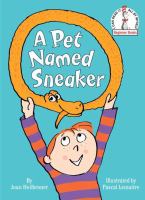 Publishers Weekly
(c) Copyright PWxyz, LLC. All rights reserved

Sneaker is a sad pet shop snake until bright-eyed, freckle-faced Pete adopts him. "Sneaker liked his new home," writes Heilbroner (Robert the Rose Horse), as Lemaitre (Artist Ted) shows the new BFFs making the most of Pete's imagination and Sneaker's slithery gifts: "He had fun with Pete. He played I Am a Necktie, I am a Hat, and I Am Handcuffs." From there, it's one sweet, goofy thing after another, with the sunny, color-saturated drawings driving the action of Heilbroner's first book in 20 years. Sneaker wins over Pete's squeamish classmates and learns to read and write his name (his penmanship is impressive considering he holds the pencil in his tail). By the end of the story, Sneaker has even found meaningful work as a lifeguard at a local pool-proof positive that nice snakes finish first. Told with easygoing assurance, marvelous economy, and goodhearted humor by two pros, this Beginner Book should sneak its way into the heart of early readers. Or as Sneaker would say, "Yesssssssssssssssssss!" Ages 5-8. Agent: Julie Just, Janklow & Nesbit Associates. Illustrator's agent: Holly McGhee, Pippin Properties. (Jan.) (c) Copyright PWxyz, LLC. All rights reserved.
---
Book list
From Booklist, Copyright © American Library Association. Used with permission.

In the tradition of misunderstood animals who just want a place to call home, meet Sneaker the snake. After being passed over at the pet store for cuter, cuddlier pets, Sneaker is finally adopted by a boy named Pete. When Sneaker sneaks into Pete's backpack and accompanies the boy to school, he makes new friends and learns to read. A story with a communicative snake would be expected to provide ample opportunity for hissing text, but there is no such wordplay, as Sneaker only utters a single word, twice, in this Beginner Book: Yessssss. Instead, Sneaker lets his actions do the talking as he proves that snakes are not gross and slimy but friendly and helpful. Emerging readers may very well be encouraged by Sneaker's classroom example as they practice their own reading skills alongside him. Lemaitre's illustrations are reminiscent of Bernard Wabar's style, and Sneaker is as winning a reptile as Lyle the Crocodile was before him.--Dean, Kara Copyright 2010 Booklist
---
School Library Journal
(c) Copyright Library Journals LLC, a wholly owned subsidiary of Media Source, Inc. No redistribution permitted.

PreS-Gr 1-Sneaker lives in a pet store and can't seem to find a home no matter how many visitors stop by. Apparently, no one wants to buy a snake, until a boy named Pete takes him home and plays with him and shares snacks and surprises. When Pete goes to school, Sneaker sneaks into his backpack and tags along. He's a big hit with the kids and proves to be a good student, going back day after day. As summer approaches, Pete takes his pet to the local pool where he ends up saving a little boy from drowning. Sneaker soon becomes a local hero and also gets a new career as the pool lifeguard. The vivid drawings and clear cartoon illustrations provide beginning readers with picture clues to help decode the story. A winning addition for most easy-reader collections.-Melissa Smith, Royal Oak Public Library, MI (c) Copyright 2013. Library Journals LLC, a wholly owned subsidiary of Media Source, Inc. No redistribution permitted.