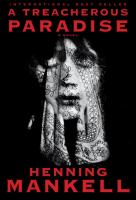 Publishers Weekly
(c) Copyright PWxyz, LLC. All rights reserved

Africa features prominently in the work of Mankell (The Shadow Girls), both in his acclaimed Wallander mysteries and his many stand-alone books, including this fine historical set in Portuguese East Africa (now Mozambique) in the early 20th century. Having no prospects, Hanna Lundmark (nee Renstrom) is sent away to find work as a cook on a ship sailing for Australia, where she falls for an officer who dies on the voyage. Once docked in Lourenco Marques, the young widow finds her way to a hotel/brothel owned by Senhor Vaz, whose proposal of marriage Hannah accepts. When he too dies, Hannah inherits his brothel and tries to make sense of her life and the world. Like many Mankell novels, the plot seems strange, even incredible, in summary form, but his gift lies in the creation of a sequence of events that is credible and illuminating. The proverbial stranger in a strange land, Hanna is the lens that exposes the ugly realities of racism, sexism, and colonialism-easy targets, obviously, but this book is very much of a piece with Mankell's nongenre, and more polemical, works. Hanna is a curious mix of helplessness and fortitude, and her story, like the story of Africa itself, is tragically sad. Agent: Anneli Hoier, Leonhardt & Hoier. (July 9) (c) Copyright PWxyz, LLC. All rights reserved.
---
Library Journal
(c) Copyright Library Journals LLC, a wholly owned subsidiary of Media Source, Inc. No redistribution permitted.

Mankell, who as author or the Kurt Wallander mysteries leads his contemporaries in the bountiful territory of Scandinavian noir, here leaps far into magical realism. Hanna begins life in icy poverty in turn-of-the-20th-century rural Sweden. When her mother insists that she head into the world, Hannah becomes a cook on a ship headed for Australia; she marries an officer, is widowed, jumps ship in Africa, becomes deadly ill at a "hotel," recovers, marries the "hotel's" owner, and is soon widowed again. This time, though, she is left immensely wealthy, and her greatest asset, the "hotel," is actually a flourishing brothel. Soon, Hanna becomes Ana and copes with identity quests (personal, geographic, racial) in a colonial Africa where racism is a given-except that Ana deviates, showing compassionate concern for the black prostitutes, a black woman who murders her white "husband," and an odd "best friend" named Carlos (read the book to find out). Though not initially a page-turner, the book soon becomes one, and vivid descriptions of both lush living and abject poverty abound. The ending? Magical. Verdict For lovers of historical fiction with a twist and of Mankell's oeuvre, although this is more Barry Unsworth (or Joseph Conrad) than Jo Nesbo. [See Prepub Alert, 1/21/13.]-Robert E. Brown, Oswego, NY (c) Copyright 2013. Library Journals LLC, a wholly owned subsidiary of Media Source, Inc. No redistribution permitted.
---
Book list
From Booklist, Copyright © American Library Association. Used with permission.

*Starred Review* In 1904, Hanna Lundmark, a young widow from poverty-stricken northern Sweden, arrives in Lourenco Marques, a coastal town in Portuguese East Africa. Following a series of unexpected events, she becomes the owner of a prosperous brothel of black prostitutes. Her new environment proves difficult to navigate, particularly its blatant racism. Nobody knows what to make of a rich white businesswoman, either. Black-white relations, evoked with subtle skill and mordant humor, are marked by mutual incomprehension and fear, and Hanna's attempts at friendliness and generosity toward her employees are met with unnatural silences. When she obeys her conscience and makes a gutsy decision against bigotry, the plot takes turns at once surprising and not. Mankell, Scandinavian crime fiction's brightest star, structures his latest around a true story from turn-of-the-century Mozambique. Considerable suspense derives from the tense atmosphere and the fact that neither Hanna nor the reader knows quite what will happen next. The tragic effects of colonialism in this divided land emerge slowly via a succession of shocking reveals. This powerful work boasts a courageous, well-drawn heroine and makes its points without stridency or didacticism. Since it's written by Mankell, an author of such high stature, it should get the large audience it deserves.--Johnson, Sarah Copyright 2010 Booklist