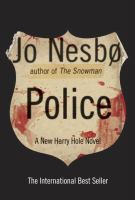 Library Journal
(c) Copyright Library Journals LLC, a wholly owned subsidiary of Media Source, Inc. No redistribution permitted.

The Oslo Crime Squad hunts for the serial killer responsible for the torture and murder of police officers staged at the scenes of earlier unsolved crimes. Nesbo's (The Redeemer; The Phantom) newest mystery presents an entire school of red herrings as readers try to discern who is the villain, who is the next victim, and what happened to Harry Hole. A stalker/student with a peripheral connection to an earlier case diverts attention from the investigation while obstruction by the politically connected chief of police and his vicious henchman hinders the detectives in their desperate chase to stop the murderer(s) before another colleague is harmed. VERDICT Followers of the Harry Hole (pronounced Hoola) series will want to read this book for both the resolution to the end of a previous novel, The Phantom, and the development of an old antagonist. Though Nesbo's police procedurals have become increasingly violent and heavy on coincidences, crime fiction readers will enjoy the high level of suspense that is sustained throughout as more questions are raised than answered before the startling conclusion is reached.-Deb West, Gannon Univ. Lib., Erie, PA (c) Copyright 2013. Library Journals LLC, a wholly owned subsidiary of Media Source, Inc. No redistribution permitted.
---
Book list
From Booklist, Copyright © American Library Association. Used with permission.

*Starred Review* Three shots fired at point-blank range. Harry Hole has to be dead, doesn't he? And, yet, here is a new Harry Hole novel, not an earlier installment of the series published out of order. Ever since word of this novel's publication started leaking, fans of Nesbo's best-selling series have been scratching puzzled heads: Harry alive? Well, you're not going to find the answer in this review, and in fact, you won't find it definitively until page 505 of Nesbo's maddening yet riveting cat-and-mouse game of a novel. But let's leave poor Harry in a kind of literary limbo for the moment and focus on what with or without Harry is one hell of a thriller. Police officers in Oslo are being murdered by a serial killer with a bizarre agenda: each victim is discovered at a crime scene that mimics the scene of an earlier unsolved murder. Not only that but the new victims all participated in the investigations of the earlier crimes. Is the killer a fellow cop? Working as an off-the-books task force, Harry's former colleagues Beate Lonn, Stale Aune, Bjorn Holm, and Katrine Bratt set out to find the answers. It's clear that Chief of Police Mikael Bellman and his henchman, Truls Berntsen, are dirty, but are they killers? Nesbo cunningly plays with the reader throughout this devilishly plotted tale, introducing multiple corkscrewing twists and, while we're worrying about Harry, slipping in a horrifying shocker from another direction altogether. The narrative is ingenious, but it grips us the way it does because, after nine novels, we've formed abiding relationships with these characters and don't like to see them messed with. Nesbo messes with everyone here, especially the reader, but furious as we'd like to be, in the end we're willing supplicants.--Ott, Bill Copyright 2010 Booklist
---
Publishers Weekly
(c) Copyright PWxyz, LLC. All rights reserved

The life of Insp. Harry Hole, who was shot in the head by his surrogate son in the finale of 2012's Phantom, hangs in the balance for much of Nesbo's powerful 10th novel featuring the Oslo homicide cop. Secondary players who have helped out along the way step into the spotlight: forensics expert and facial-recognition whiz Beate Lonn; the brilliant but psychologically unstable detective Katrine Bratt; Harry's longtime friend Bjorn Holm; and the slippery new police chief, Mikael Bellman. The police force itself is at stake when it becomes apparent that the seemingly unrelated deaths of police officers are actually part of a larger pattern: each officer was slain at the site of an unsolved crime. In Nesbo's able hands, Harry's absence is a character unto itself, but this will only make readers more eager to learn Harry's fate. Author tour. 150,000-copy announced first printing. Agent: Niclas Salomonsson, Salomonsson Agency (Sweden). (Oct.) (c) Copyright PWxyz, LLC. All rights reserved.