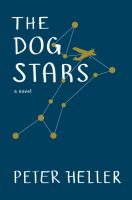 Library Journal
(c) Copyright 2010. Library Journals LLC, a wholly owned subsidiary of Media Source, Inc. No redistribution permitted.

In the near future, a flu pandemic has decimated civilization, leaving only scattered pockets of survivors to fend for themselves. Hig is one of the healthy ones. For the past nine years, he has coexisted with a loner named Bangley at an abandoned airport in eastern Colorado. Trying not to think of his former life, Hig finds sanity in fishing, staring at the constellations, and flying his plane. With his dog, Jasper, Hig flies the perimeter of their safety zone in his 1956 Cessna. Bangley has a well-stocked arsenal, and between them, they keep a watchful eye for unfriendly invaders. On one of his forays, through broken static, Hig hears another pilot over the radio, an incident that haunts him until he goes in search of this other human being. Packing enough supplies to get him there and back, he takes off for western Colorado in search of the voice. During his six-week journey, he discovers more than he bargained for. VERDICT After an award-winning career as an adventure writer and NPR contributor, Heller has written a stunning debut novel. In spare,Åpoetic prose, he portrays a soaring spirit of hope that triumphs over heartbreak, trauma, and insurmountable struggles. A timely must-read. [See Prepub Alert, 1/30/12.]-Donna Bettencourt, Mesa Cty. P.L., Grand Junction, CO (c) Copyright 2012. Library Journals LLC, a wholly owned subsidiary of Media Source, Inc. No redistribution permitted.
---
Publishers Weekly
(c) Copyright PWxyz, LLC. All rights reserved

In the tradition of postapocalyptic literary fiction such as Cormac McCarthy's The Road and Jim Crace's The Pesthouse, this hypervisceral first novel by adventure writer Heller (Kook) takes place nine years after a superflu has killed off much of mankind. Hig, an amateur pilot living in Colorado, has retreated to an abandoned airport from which he flies sorties in "the Beast," his vintage Cessna, over isolated pockets of survivors. His only neighbor is the survivalist Bangley, who's sitting on a stockpile of weapons and munitions, and the only visitors are plague survivors who have descended into savagery. Hig's one real comfort, besides the memory of his dead wife, Melissa, who fell victim to the flu while pregnant, is his dog, Jasper. But when that comfort is withdrawn, Hig flies west in search of the radio voice that called out to him three years before. Instead, he ends up being shot down and restrained by a doctor named Cima and her shotgun-toting father, a former Navy SEAL. With its evocative descriptions of hunting, fishing, and flying, this novel, perhaps the world's most poetic survival guide, reads as if Billy Collins had novelized one of George Romero's zombie flicks. From start to finish, Heller carries the reader aloft on graceful prose, intense action, and deeply felt emotion. Agent: David Halpern, the Robbins Office. (Aug.) (c) Copyright PWxyz, LLC. All rights reserved.
---
Book list
From Booklist, Copyright © American Library Association. Used with permission.

*Starred Review* Outdoor life has been the focus of Heller's award-winning nonfiction. In his gripping first novel, his gift for action and appreciation for prowess and courage fuel a harrowing yet charming postapocalyptic tale. The book's complex spell is cast by its tough yet sensitive can-do narrator, Hig. Happiest while trout fishing, he's a skilled hunter, daring pilot, and poet turned outdoorsy writer. Hig misses his wife, who died in the nation-crushing pandemic, dearly loves his dog, and is both leery of and grateful for Bangley, an older guy of few words but immense tenacity, military know-how, and firepower. They are holed up in a small Colorado airport, fighting off intermittent assaults by bands of murderous survivors. Richly evocative yet streamlined journal entries propel the high-stakes plot while simultaneously illuminating Hig's nuanced states of mind as isolation and constant vigilance exact their toll, along with his sorrow for the dying world as global warming worsens. Hig takes long, risky, meditative walks; tends the garden; and stubbornly takes to the air in a 1956 Cessna, searching for some remnant of civilization. Heller's surprising and irresistible blend of suspense, romance, social insight, and humor creates a cunning form of cognitive dissonance neatly pegged by Hig as an apocalyptic parody of Norman Rockwell a novel, that is, of spiky pleasure and signal resonance.--Seaman, Donna Copyright 2010 Booklist