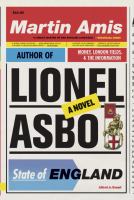 Book list
From Booklist, Copyright © American Library Association. Used with permission.

*Starred Review* Amis' phenomenal vim and versatility, anchoring roots in English literature, and gift for satire power this hilariously Dickensian, nerve-racking, crafty, bull's-eye tale of a monster and a mensch. Lionel, a volatile and brutal thug much feared in his destitute Liverpool neighborhood, proudly changed his last name to Asbo, the English acronym for anti-social behavior order. Loyal to blood, Lionel has taken in his orphaned teenage nephew, Desmond. Gentle, smart, bookish, and half-black, Des nimbly if fearfully navigates Lionel's wrath and psychopathic pit bulls while anxiously harboring a potentially fatal family secret. While Lionel is in and out of prison, Des goes to college, becomes a journalist, and marries. Then Lionel wins the lottery and becomes the tabloids' favorite target as he struggles to transform himself and burns through a huge sum of money with mad desperation. In a wicked twist on the rags-to-riches motif, Amis exults in mocking the cheap dreams of the lottery and the rapacious British press while affirming the toxic conflicts of class, race, and gender. Even more caustically diabolical is the way Amis toys with our trust in love. This deliciously shivery, sly, and taunting page-turner provokes a fresh assessment of the poverty of place, mind, and spirit and the wondrous blossoming of against-all-odds goodness. HIGH-DEMAND BACKSTORY: With praise still in the air for Amis' last novel, The Pregnant Widow (2010), readers will flock to this rapidly devoured, fiendishly comedic, and telling fable.--Seaman, Donna Copyright 2010 Booklist
---
Publishers Weekly
(c) Copyright PWxyz, LLC. All rights reserved

If there's a more depraved human being than the title character of Martin Amis's savagely funny new novel, Lionel Asbo: State of England, you do not want to meet him. Like earlier Amis creations Keith Talent (London Fields) and John Self (Money), Asbo's very name (ASBO is the U.K. acronym for Anti-Social Behavior Order) is a tipoff of the author's intent. And like those earlier Amis novels, Lionel Asbo: State of England crackles with brilliant prose and scathing satire. Lionel first runs afoul of the law at the age of three years, two days ("a national record") for throwing bricks through car windows. By 21, he's a vicious criminal who raises pitbulls on a diet of Tabasco Sauce and malt liquor and terrorizes his seedy London neighborhood. So far so Amis. So who could predict that, from this delightfully nasty setup, an author the New York Times once called "fiction's angriest writer" would craft a novel so... Dickensian, a novel with such... I hate to even say it... heart. That's because Lionel Asbo: State of England also features a hopeful, lovable orphan in need of a benefactor, Lionel's nephew Desmond Pepperdine. And when Lionel wins 140 million in the national lottery, what follows is hilarious and strangely compelling-a gleefully twisted Great Expectations. Lionel's family tree is a tangle of early breeding: his mum, Grace, had seven children by the age of 19: a girl, Cilla, then five boys named after Beatles (the last is named Stuart Sutcliffe) and, finally, Lionel. Only Cilla and Lionel have the same father, so, despite the age difference, the bookended siblings are known as "the twins." Des is Cilla's boy and when she dies young, Lionel is left to raise his smart, sensitive nephew, who is only six years younger than him. Lionel takes to his new role, encouraging Des to put down his schoolbooks and go break windows with his mates. Then Lionel gets rich and becomes a tabloid sensation, the Lottery Lout. He lives large, hires a publicist, and starts a phony relationship with one of those beautiful, boring women famous for being famous (think: a British Kardashian.) Wealthy Lionel is even worse than poor Lionel; boorish, brutal, wistful for his old life. "Not happy. Not sad. Just numb," as he describes himself. "The only time I know I'm breathing is when I'm doing some skirt." Amis adopts a big, playful storytelling voice in this book. He riffs like a jazz master, in and out of vernacular, with brief gusts of description, all driven by a tight bass line of suspense. You see, Des is hiding a secret and if Lionel finds out... well, let's just say it would be better if Lionel does not find out. A double-edged question holds this terrific, lithe novel: will it be the fabulously wealthy Lionel who takes care of Des, or the sociopath? Reviewed by Jess Walter, who is the author of six novels, most recently Beautiful Ruins (Harper 2012). He won the 2005 Edgar Award for his novel Citizen Vince. (c) Copyright PWxyz, LLC. All rights reserved.
---
Library Journal
(c) Copyright 2010. Library Journals LLC, a wholly owned subsidiary of Media Source, Inc. No redistribution permitted.

Amis's latest novel is really two stories, a satirical take on the rise and fall of Lionel Abso, small-time criminal, and the coming-of-age story of Desmond "Des" Pepperdine. Back when he was still a Pepperdine, at the tender age of two, Lionel started living the thug life by bullying his older brothers. By the age of three, he had been cited by the cops for smashing car windows. Des is Lionel's nephew. He is gifted, the book-smart kid in a school famous for low standards, college-bound among the prison-bound. When Lionel's not in jail the two live in a high-rise housing estate in the London borough of Diston. In jail for starting a brawl at a wedding, Lionel wins the lottery, becomes a multimillionaire and starts living the celebrity life. Cue the hijinks. VERDICT Despite the distractions of the Lionel's shenanigans (ridiculous, over the top, and, yes, funny) readers will be drawn to Des. He may be the straight man in the piece but he adds depth to the novel. It's a fun read all around, but fans of Junot Diaz's The Brief Wondrous Life of Oscar Wao and Paul Beatty's The White Boy Shuffle will want to look for this. [See Prepub Alert, 1/13/12.]-Pamela Mann, St. Mary's Coll. of Maryland, St. Mary's City (c) Copyright 2012. Library Journals LLC, a wholly owned subsidiary of Media Source, Inc. No redistribution permitted.