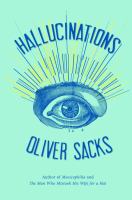 Publishers Weekly
(c) Copyright PWxyz, LLC. All rights reserved

We think of seeing-or hearing, smelling, touching or inchoately sensing-things that aren't there as a classic sign of madness, but it's really a human commonplace, according to Sacks's latest fascinating exploration of neuropsychiatric weirdness. Acclaimed neurologist Sacks (The Mind's Eye) investigates a wide range of hallucinations, from the geometric zigzags of some migraines and the painful cramps of phantom limbs to florid multicharacter melodramas, grotesque phantasms, and mystic trances induced by brain disorders and drugs. He also studies how people live with their hallucinations; some recognize them as just diverting figments while for others they constitute an inescapable unreality as malevolent and terrifying as a horror movie. (Sacks amply recounts his own entertaining hallucinations, including a drug-induced encounter with a spider who talked to him about Bertrand Russell.) As always, Sacks approaches the topic as both a brain scientist and a humanist; he shows how hallucinations elucidate intricate neurological mechanisms-often they are the brain's bizarre attempt to fill in for missing sensory input-and examines their imprint on folklore and culture. (Dostoyevski's fiction, he theorizes, is marked by the ecstatic religious trances induced by his epilepsy.) Writing with his trademark mix of evocative description, probing curiosity, and warm empathy, Sacks once again draws back the curtain on the mind's improbable workings. Agent: The Wylie Agency. (Nov. 6) (c) Copyright PWxyz, LLC. All rights reserved.
---
Library Journal
(c) Copyright Library Journals LLC, a wholly owned subsidiary of Media Source, Inc. No redistribution permitted.

Physician and prolific author Sacks (The Mind's Eye) gives readers another gem of a book, this time about hallucinations. He discusses his own experiences stemming from migraines or drug use: "My first pot experience was marked by a mix of the neurological and the divine." Hallucinations can involve any of the five senses or memory, or be caused by brain injury. They manifest as sleep paralysis and nightmares, ecstasy and panic, music, haunting images, revenants, and doubles. Sacks's more famous subjects here include Joan of Arc, Dostoyevsky, Freud, and William James. His commentary ranges widely, from hypnosis to post-traumatic stress disorder, imaginary companions to out-of-body experience. VERDICT With a fine sense of narrative, Sacks deftly integrates literature, art, and medical history around his very human, often riveting, case histories. This book is recommended for all readers, not just those with symptoms! This is a model of humane science made compellingly readable. [See Prepub Alert, 5/2/12.]-E. James Lieberman, George Washington Univ. Sch. of Medicine, Washington, DC (c) Copyright 2012. Library Journals LLC, a wholly owned subsidiary of Media Source, Inc. No redistribution permitted.
---
Choice
Copyright American Library Association, used with permission.

This latest book by prolific author Sacks (Columbia Univ.) is fascinating and illuminating. He brings a clear neurologist's view to a topic discussed over the years in philosophy, psychology, and medicine, and always links what is going on in the mind to what might be happening in the brain--neural discharge, chemical influences, and even the absence of sensory input. At the same time, his narrative accounts provide a vivid and sometimes disturbing picture of what it might be like to have internally constructed sensations interpretable as external ones. The wide range of illusions and hallucinations goes from the visual images of Charles Bonnet syndrome through the ecstatic seizures of temporal lobe epilepsy to the touch/pain images of phantom limbs. Sacks even discusses (while emphasizing these drugs were legal at the time) the illuminating effect of "recreational" drugs on himself. The range and scope of hallucinations give his audience a chance to see how normal these abnormalities are and how people have interpreted and made sense of them. It can even leave "normal" readers a bit wistful that they do not experience any of them, while still better understanding reality and its departures. Summing Up: Highly recommended. Lower-division undergraduates through professionals; general readers. J. A. Mather University of Lethbridge
---
Book list
From Booklist, Copyright © American Library Association. Used with permission.

Sacks' best-selling nonfiction stories based on his practice of clinical neurology constitute one shining reason for thinking that we're living in a golden age of medical writing. His twelfth book, though neither as scrappy as The Man Who Mistook His Wife for a Hat (1985) nor as focused as Musicophilia (2007), yields nothing to them in fascination. It's about the varieties of seeing, hearing, smelling, and feeling things that aren't there, from Charles Bonnet syndrome, in which sufferers of vision losses see people, animals, and cartoonlike figures more vividly than their impairments should allow, to the kinds of seeing oneself, which include out-of-body experiences as well as doppelganger encounters. The final chapter (of 15) considers the related phenomena of phantom body parts, which differ from other hallucinations in that they occur immediately and almost invariably after loss of their physical originals. Sacks never talks down to readers nor weighs them down with too much neurological patois. When he does use an unfamiliar term, his genial, informative style makes one want to look it up. High-Demand Backstory: Sacks defines the best of medical writing, and his latest book will be promoted as such.--Olson, Ray Copyright 2010 Booklist