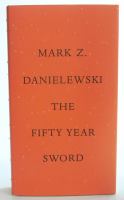 Publishers Weekly
(c) Copyright PWxyz, LLC. All rights reserved

This first American edition of Danielewski's novella, published in a different form in the Netherlands in 2005, has the theatrical quality of a children's ghost story, complete with stitched-art illustrations (designed by the author), sweeping themes, and fairy-tale tropes. But the tale told by the Story Teller, hired to entertain the children, is nested in the all-too adult story of Chintana, a seamstress suffering through the aftermath of a painful divorce. The smallest daily rituals-opening a can of "bitter tea leaves," putting on shoes-require terrific force, and she has visions of inflicting violence. At her twin's urging, Chintana attends a Halloween party at an East Texas ranch, where she comes face-to-face with the source of her marriage's destruction and discovers the Story Teller's thirst for revenge. Danielewski (House of Leaves) knows that typographical landscaping can be a narrative tool. With rare exception, he unfurls his tale down one side of the page in quoted speech of different colors representing five orphans whose obscure connection is hinted at in an author's note; text is juxtaposed or shares space with illustrations. Tension builds visually; some scenes slows to a sentence per page (a trick the author's fans will recognize), vertically tearing the white space (readers resistant to textual hijinks may be frustrated). More of a narrative poem than a novella, this would be well suited to an oral reading and may be best thought of as an objet d'art that chillingly holds us accountable for our worst thoughts. Illus. Agent: WME Entertainment. (Oct.) (c) Copyright PWxyz, LLC. All rights reserved.
---
Library Journal
(c) Copyright Library Journals LLC, a wholly owned subsidiary of Media Source, Inc. No redistribution permitted.

In this brief, dark tale, Chintana attends a Halloween party where she encounters Belinda Kite, the woman who stole her husband, as well as five orphans. A mysterious stranger arrives carrying a box and tells a story about his travels around the world in search of a special weapon. The journey takes the teller through haunted regions until he finds a weapons dealer with an unusual set of swords. Some are capable of killing the sense of smell or taste, others certain colors, and still others take lives. The narrator is sold a sword in exchange for a memory, and when he concludes his story, the five children open the box he has brought. Chintana senses the children are in danger, but then her nemesis, Belinda, intervenes. VERDICT Absorbing, spooky, and playful, with copious illustrations but minimalist text, the narrative consists of a series of quotations from five narrators whose history is given in an ominous prelude that may or may not explain just what is going on. Shorter than the author's other two novels (House of Leaves; Only Revolutions), this new work offers a less demanding introduction to his unusual literary creations. [See Prepub Alert, 4/9/12.]-Jim Coan, SUNY at Oneonta Lib. (c) Copyright 2012. Library Journals LLC, a wholly owned subsidiary of Media Source, Inc. No redistribution permitted.