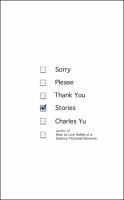 Publishers Weekly
(c) Copyright PWxyz, LLC. All rights reserved

In his new story collection, Yu (How to Live Safely in a Science Fiction Universe) draws from both sci-fi and literature to conjure a world of emotionally stunted people, unable or unwilling to cope with reality and the love or loss that it entails. With somewhat mixed results, the book charts eclectic territory, from a zombie in a megamart to a new pharmaceutical drug that generates a sense of purpose, and explores retreats from reality and emotion. In "Standard Loneliness Package," Yu imagines a technology that transfers guilt, heartbreak, and other bad feelings onto the employees of an "emotional engineering firm" based in India. In "Adult Contemporary," which recalls George Saunders, a man trying to buy a new life realizes that he's a character in someone else's story. Less successful stories delve into the workings of fiction itself; Yu wrestles with ethics as he imagines himself as a character struggling against his author in "Human for Beginners." At their best, the tales amusingly send up American consumer culture, but Yu's fondness for self-reference and literary games leads to some dead ends. While Yu's imaginative allegories are mostly too obvious to be genuinely thought provoking, they're nonetheless an impressive sendup of contemporary life. Agent: Gary Heidt, Signature Literary Agency. (July) (c) Copyright PWxyz, LLC. All rights reserved.
---
Book list
From Booklist, Copyright © American Library Association. Used with permission.

In his buzzed-about debut, How to Live Safely in a Science Fictional Universe (2010), Yu experimented with literary narration in a digressive novel about time travel. His whimsically sad and comically inventive first story collection delivers more of his satiric obsession with nerd culture and science as he explores losers, loners, and lovers in the digital age. The CEO of a pharmaceutical company speaks before potentially soon-to-be-laid-off employees about the company's research into depression. A space officer whose wife is expecting their first child is promoted to yeoman, a position with a job description that implied he'll die during his first week. An unhappily married couple discovers a door in their apartment that leads to an alternate reality where they theoretically experience happiness. And in the title story, a desperate man pens a suicide note to a hypothetical lover in the hopes that someone will long for him, if even only posthumously. Yu's bold, playful voice evokes a computer-era Donald Barthelme, but his stylistic journey into the vast universe that is the human mind is refreshingly distinctive.--Fullmer, Jonathan Copyright 2010 Booklist
---
Library Journal
(c) Copyright Library Journals LLC, a wholly owned subsidiary of Media Source, Inc. No redistribution permitted.

Riding on the critical success of his debut novel, How To Live Safely in a Science Fictional Universe, Yu continues his predilection for "experimental" narrative in this collection of short stories. His ability to assume widely diverging roles as a storyteller is dazzling. For example, "Troubleshooting" reads like an instruction manual, "The Book of Categories" is presented in the Anglo-American Cataloging Rules format, "Hero Absorbs Major Damage" brings to mind a video game's battle plan, and "Designer Emotion 67" comes across like a keynote speaker's presentation. One story, "Note to Self," is even in the form of an online chat. The subjects embrace a wide variety of topics from genuine emotions in human relationships to make-believe, stereotyping, unfulfilled desires, and the true meaning of heroism and leadership, although this multifarious approach often is distracting. Sometimes he even resorts to Jack Kerouac-like "spontaneous prose" with rambling words and run-on sentences. "Open," written in a comparatively conventional style, is the most enchanting story in the collection and blends science fiction and magical realism in an exploration of the sincerity of our interactions with loved ones. VERDICT Those not bothered by diverse writing styles will find reading Yu to be an exciting adventure. [See Prepub Alert, 1/21/12.]-Victor Or, Surrey Libs. & Vancouver P.L., BC (c) Copyright 2012. Library Journals LLC, a wholly owned subsidiary of Media Source, Inc. No redistribution permitted.