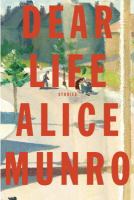 Book list
From Booklist, Copyright © American Library Association. Used with permission.

*Starred Review* Munro's latest collection brings to mind the expression, What is old is new again. As curiously trite and hardly complimentary as that statement may sound, it is offered as unreserved praise for the continued wonderment provided by arguably the best short-story writer in English today. Some of these 14 stories present new directions in Munro's exploration of her well-recognized universe (rural and small-town Ontario), while other stories track more familiar paths, with characters and familial situations reminiscent of previous stories. That said, the truth is that on whatever level of reader familiarity Munro is working, in every story she finds new ways to make the lives of ordinary people compelling. Amundsen has a setting that will pique the interest of avid Munro followers, yet it is delivered with a tone surprising and even disturbing. A young woman ventures to a remote area to assume teaching duties in a TB sanitarium, soon entering into a dismal relationship with the head doctor. But with Munro's care in craftsmanship and her trademark limpid, resonant style, the reader accepts that the depressing aftereffect is Munro's intention. Haven will come to be considered one of her masterpieces: a quick-to-maturation piece, a fond specialty of Munro's, this one is about a teenage girl going to live with her aunt and uncle while her parents do missionary work. In quite dramatic fashion, she observes that what might appear as somone's acceptance of another person's quirks may actually be indifference. HIGH-DEMAND BACKSTORY: A first printing of 100,000 copies supports Munro's international popularity.--Hooper, Brad Copyright 2010 Booklist
---
Library Journal
(c) Copyright Library Journals LLC, a wholly owned subsidiary of Media Source, Inc. No redistribution permitted.

Every new collection from the incomparable Munro, winner of the Man Booker International Prize for her lifetime body of work, is cause for celebration. This new volume offers all the more reason to celebrate as it ends with four stories the author claims are the most autobiographical she has written. As she has moved through the decades, so have her characters, whose stories are mostly set in small-town Ontario in an earlier time or who are looking back from the present with some earned perspective. Two standouts among the riches: in "Train," a postwar drifter lands on the doorstep of an older woman who takes him in and allows him to live companionably with her for the next couple of decades. When she is suddenly taken ill, a revelation about her past brings up haunting memories of his own, causing him to abruptly abandon her. In "Dolly," the comfortable happiness of an older couple is shaken by the reappearance of a woman with whom the husband had a brief but intense wartime affair. In every story, there is a slow revelation that changes everything we thought we understood about the characters. VERDICT Read this collection and cherish it for dear life.-Barbara Love, Kingston Frontenac P.L., ON (c) Copyright 2012. Library Journals LLC, a wholly owned subsidiary of Media Source, Inc. No redistribution permitted.
---
Publishers Weekly
(c) Copyright PWxyz, LLC. All rights reserved

Joan Didion once said "I didn't want to see life reduced to a short story... I wanted to see life expanded to a novel." Didion had her own purposes, but Munro readers know that the dichotomy between expansive novel and compressed short story doesn't hold in her work. Munro (Too Much Happiness) can depict key moments without obscuring the reality of a life filled with countless other moments-told or untold. In her 13th collection, she continues charting the shifts in norms that occur as WWII ends, the horses kept for emergencies go out of use, small towns are less isolated, and then gradually or suddenly, nothing is quite the same. There are no clunkers here, and especially strong stories include "Train," "To Reach Japan," "Haven," and "Corrie." And for the first time, Munro writes about her childhood, in the collection's final four pieces, which she describes as "not quite stories.... I believe they are the first and last-and the closest-things I have to say about my own life." These feature the precision of her fiction with the added interest of revealing the development of Munro's eye and her distance from her surroundings, both key, one suspects, in making her the writer she is. While many of these pieces appeared in the New Yorker, they read differently here; not only has Munro made changes, but more importantly, read together, the stories accrete, deepen, and speak to each other. (Nov.) (c) Copyright PWxyz, LLC. All rights reserved.