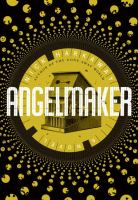 Publishers Weekly
(c) Copyright PWxyz, LLC. All rights reserved

In Harkaway's endlessly inventive second novel (after The Gone-Away World), Londoner Joe Spork has turned his back on his late father's mobster legacy and become instead a clock repairman. Asked by a friend to fix a complex old machine, Joe finds himself inexplicably pursued by shadowy government agents, a rogue sect of technophiliac monks, a suburban serial killer and an identity-shifting Asian drug lord called Opium Khan. As Joe races to discover the true purpose of the machine, he learns that the answer might lie with elderly Edie Banister, a superspy during WWII. Edie's flashbacks to her war adventures are easily the most diverting aspect of this book, but in no way overshadow Joe's frantic search to uncover the truth about the machine, a doomsday device that turns out to be linked to his family history. With the fate of the world in his hands, Joe realizes that the only way to save the planet might be for him to embrace his father's gangster heritage. Perhaps inspired by the New Wave science fiction of Michael Moorcock, the London crime novels of Jake Arnott, and the spy fiction of John le Carre (the author's father), the novel ends up being its own absurdist sendup of pulp story tropes and end-of-the-world scenarios. Although the narrative often threatens to go off the rails, Harkaway makes his novel great fun on every page. Agent: Patrick Walsh, Conville and Walsh Literary Agency, U.K. (Mar.) (c) Copyright PWxyz, LLC. All rights reserved.
---
Book list
From Booklist, Copyright © American Library Association. Used with permission.

*Starred Review* Harkaway's celebrated debut, The Gone-Away World (2008), offered a gonzo take on postapocalyptic fiction, but it was really just a warm-up act a prodigiously talented novelist stretching muscles that few other writers even possess for this tour de force of Dickensian bravura and genre-bending splendor. At the center of the tale is a mild-mannered clockmaker in contemporary London, Joe Spork, who is doing his best to live down the legacy of his crime-boss father. Then an elderly lady, who happens to be a superspy from decades past, deposits a curious artifact on Joe's doorstop, and before you can say doomsday machine, Joe's friends are being murdered, he's accused of terrorism, and he appears to be the only person with even an outside chance of saving humanity from a truly bizarre form of extinction: the doomsday machine, we learn gradually, was designed to bring world peace by forcing us to speak only the truth, but in the wrong hands, truth-telling can be the deadliest of weapons. Yes, there's espionage here, along with fantasy and more than a little steampunk, but there's also an overlay of gangster adventure, a couple of tender romance plots, and some fascinating reflections on fathers and sons and the tricky matter of forging a self in the shadow of the past. The latter is particularly interesting, as Harkaway is the son of John le Carre, and while he writes in an utterly different style and on a much grander scale than his father, the fact remains that stripped of its mad monks and artificial bees and pre-Raphaelite craftsmen turned thugs Harkaway's novel is at its core a powerful meditation on the anxiety of influence, similar in that way to his father's A Perfect Spy (1986). But influences aside, this is a marvelous book, both sublimely intricate and compulsively readable.--Ott, Bill Copyright 2010 Booklist
---
Library Journal
(c) Copyright Library Journals LLC, a wholly owned subsidiary of Media Source, Inc. No redistribution permitted.

This second novel from British writer Harkaway (after The Gone-Away World) is a long, wild journey through a London dream world as the planet balances on the brink of some big event. At his Thames-side workshop, clock repairman Joe Spork starts receiving strange visitors and threatening inquiries, all related to a machine he's been trying to fix as a favor for a friend. He soon realizes that a dangerous religious cult, in cahoots with the British government, is after this apparatus, which he has inadvertently set in motion with perhaps world-ending implications. As Joe is pursued around England and the body count rises, the novel delves into the story of Edie Banister, a secret operative for British intelligence before World War II who had been sent to Asia to confront a murderous dictator and kidnap a scientist working on an invention similar to Joe's. VERDICT With its bizarre scenarios and feverish wordiness, its huge cast of British eccentrics and the dark forces of paranoia and totalitarianism lurking everywhere, this novel recalls the works of Martin Amis and Will Self. Immense fun and quite exciting. [See Prepub Alert, 9/11/11.]-Jim Coan, SUNY Coll. at Oneonta Lib. (c) Copyright 2012. Library Journals LLC, a wholly owned subsidiary of Media Source, Inc. No redistribution permitted.