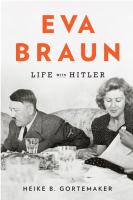 Publishers Weekly
(c) Copyright PWxyz, LLC. All rights reserved

Known today primarily from a handful of personal photos with the Fuhrer and the reminiscences of his closest aides, Eva Braun is often thought of as a stereotypically vapid dumb blond, in thrall to Hitler's magnetism, but ignorant of and uninterested in the political tumult he caused. Braun, 23 years Hitler's junior, was long thought to have been merely the leader's arm candy, never having a truly intimate or emotional bond with the man who said the only bride he would consent to marry was Germany itself. Gortemaker challenges these assumptions in the first scholarly biography of Hitler's mistress, originally published in German last year. Having painstakingly reviewed the archives for references to Braun's relationship with Hitler, Gortemaker presents a portrait of an engaged and engaging young woman, fervently supportive of National Socialism and one of the few members of Hitler's inner circle to never lose his trust or fall out of affection. Though a full account is hampered by the lack of revealing documents (a stash of hundreds of love letters that Braun ordered preserved just before her suicide has never been found and is presumed destroyed), this telling sheds more light on the central question in the narrative of Eva Braun: "Did she share the political positions and basic worldview of her lover or was she merely the 'tragic slave,' who nonetheless profited from Hitler's power by enjoying the luxurious life that he offered her?" Photos. (Oct.) (c) Copyright PWxyz, LLC. All rights reserved.
---
Book list
From Booklist, Copyright © American Library Association. Used with permission.

Gortemaker attempts to probe beneath the two-dimensional portrait of Eva Braun presented by most historians and biographers. Although it is difficult, if not impossible, to whip up any sympathy for or to empathize with one of history's most notorious mistresses, Gortemaker does provide a more nuanced view of this marginalized woman by examining the pivotal role she played in Hitler's life and within his inner circle. Although, in and of herself, she was a relatively unremarkable individual, her life merits inspection and scrutiny because she was, in effect, an important piece of the always perplexing Hitler puzzle. Since she was a witness to and an active participant in the most heinous crimes of the century, it is surprising that her impact and her influence have been so consistently minimized. This breakout biography is a solid contribution to the ever-increasing body of Third Reich literature and scholarship.--Flanagan, Margaret Copyright 2010 Booklist
---
Library Journal
(c) Copyright Library Journals LLC, a wholly owned subsidiary of Media Source, Inc. No redistribution permitted.

Eva Braun is notorious as Hitler's longtime mistress who died with him on April 30, 1945, after a brief wedding ceremony in the fuhrer's Berlin bunker during the final Soviet assault of World War II. Braun was little known then, and her role as his lover and wife came to light only in the postwar period. Recently, two major biographical studies have appeared: Angela Lambert's The Lost Life of Eva Braun and now this English translation of Gortemaker's 2010 Eva Braun: Leben mit Hitler. Both works are serviceable, but Gortemaker, a German historian, has investigated more archives and probably has a better overall feel for the era's cultural milieu. She also provides useful context with her discussion of the Nazi view of women and their role in the Reich. She believes that Braun probably played a larger role in Hitler's daily life than has been previously assumed by historians; nevertheless, Braun never acted outside of the rigid social and personal boundaries established by Hitler. VERDICT While Lambert's book is an easier read, this solidly researched, sophisticated, and well-written biography has greater insight into Nazi culture and is highly recommended for libraries that do not currently have either book.-Ed -Goedeken, Iowa State Univ. Lib., Ames (c) Copyright 2011. Library Journals LLC, a wholly owned subsidiary of Media Source, Inc. No redistribution permitted.