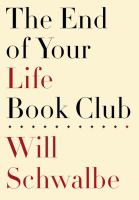 Book list
From Booklist, Copyright © American Library Association. Used with permission.

*Starred Review* Schwalbe and his mother accidentally formed a book club in a cancer-treatment waiting room. As they discuss what they will read while Mary Anne is treated for pancreatic cancer, they deepen their already strong relationship. Schwalbe didn't plan to write this memoir as he was living it, so it's mostly nuggets of emotionally important remarks in the context of the development of his mother's illness. Will's love and respect for his mother shine through in the story of a remarkable woman's life, from how she helped refugees to her seeking to build libraries in Afghanistan. With 21 years of book-publishing experience, Schwalbe quickly introduces the books themselves in one or two paragraphs. The works they read offer a way to approach topics they otherwise wouldn't discuss, and the focus is more on what the books reveal than what happens in them. This touching and insightful memoir about the slow process of dying will appeal to readers of Tuesdays with Morrie (1997) and The Last Lecture (2008) but also to people who love delving into books and book discussions. Like Mary Anne, who reads the ending first, you know how this book is going to end, but although it is a story about death, it is mostly a celebration of life and of the way books can enrich it.--Thoreson, Bridget Copyright 2010 Booklist
---
Library Journal
(c) Copyright Library Journals LLC, a wholly owned subsidiary of Media Source, Inc. No redistribution permitted.

Schwalbe (former editor in chief, Hyperion; coauthor, Send: Why People Email So Badly and How To Do It Better) and his mother, Mary Anne, always had a bond forged with books, and after she was diagnosed with terminal pancreatic cancer, they strengthened that bond by forming a "book club" together. Throughout this memoir, Schwalbe and his mother discuss characters and themes from the books they read, and Schwalbe considers these same characters and themes in relation to his mother, who, as an administrator at Harvard and the Dalton School in New York City and a widely admired humanitarian, tirelessly strove to help others. In the process, Schwalbe shows why books were so important to him and his mother: they introduce readers to new worlds and fabulous characters while, at the same time, they help explain the world in which the readers themselves live. VERDICT This book will bring tears to readers' eyes-it is an essential title for lovers of memoir. Recommended for anyone who enjoys books about mothers and sons, books about the love of books, and books about the strength of families. [See Prepub Alert, 4/16/12.]-Ryan Claringbole, Chesapeake P.L., VA (c) Copyright 2012. Library Journals LLC, a wholly owned subsidiary of Media Source, Inc. No redistribution permitted.
---
Publishers Weekly
(c) Copyright PWxyz, LLC. All rights reserved

Sharing books he loved with his savvy New Yorker mom had always been a great pleasure for both mother and son, becoming especially poignant when she was diagnosed with pancreatic cancer in 2007, at age 73. Schwalbe, founder of Cookstr.com and former editor-in-chief of Hyperion, along with his father and siblings, was blindsided by the news; his mother, Mary Ann Schwalbe, had been an indomitable crusader for human rights, once the director of admissions at Harvard, and a person of enormous energy and management skills. Could a book club be run by only two people? Schwalbe and his mother wondered as they waited together over many chemotherapy sessions at Memorial Sloan-Kettering. It didn't matter: "Books showed us that we didn't need to retreat or cocoon," he writes; they provided "much-needed ballast" during an emotionally tumultuous time when fear and uncertainty gripped them both as the dreaded disease ("not curable but treatable") progressed rapidly. From Ian McEwan's On Chesil Beach to Khaled Hosseini's A Thousand Splendid Suns, William Trevor's Felicia's Journey to Josephine Tey's Brat Farrar, Geraldine Brooks's People of the Book to John Updike's My Father's Tears: the books they shared allowed them to speak honestly and thoughtfully, to get to know each other, ask big questions, and especially talk about death. With a refreshing forthrightness, and an excellent list of books included, this is an astonishing, pertinent, and wonderfully welcome work. (Oct.) (c) Copyright PWxyz, LLC. All rights reserved.