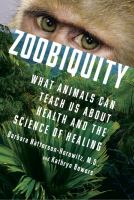 Book list
From Booklist, Copyright © American Library Association. Used with permission.

*Starred Review* Our ancestors knew that animals suffer the same diseases as humans, but as modern medicine developed, a great schism grew between physicians and veterinarians. Cardiologist and psychiatrist Natterson-Horowitz now calls for a new species-spanning approach to medicine and health. She and science writer Bowers coined the term zoobiquity for this emerging field, and they present their case with winning enthusiasm and expertise. Natterson-Horowitz, astute and funny, recounts her mind-expanding zoobiquitous expeditions involving a remarkable array of mammals, birds, reptiles, fish, and insects and explicates the genetic and evolutionary roots of her revelatory discoveries. Not only do animals faint but fainting can be essential to survival, leading Natterson-Horowitz to modify a classic phrase to Fight, flight, or faint. Even more arresting are her revelations about animals, intoxication, and addiction (including a Texan cocker spaniel who loved to lick cane toads for the hallucinogenic toxin in their skin). Her investigation into animal sex redefines natural acts, and her coverage of animal adolescence and eating disorders is fascinating and instructive. Clearly, we have much to learn from animals and from this profoundly illuminating new fusion of veterinary, human, and evolutionary medicine. Zoobiquity is as clarion and perception-altering as works by Oliver Sacks, Michael Pollan, and E. O. Wilson.--Seaman, Donna Copyright 2010 Booklist
---
Publishers Weekly
(c) Copyright PWxyz, LLC. All rights reserved

The fossil record indicates that dinosaurs developed cancer. Chlamydia is rampant in wild koala bear populations. Wallabies in Tasmania are hooked on opium. In this intriguing book, cardiologist and psychiatrist Natterson-Horowitz, along with science journalist Bowers, explore some of humanity's most pressing health problems (cancer, obesity) through the eyes of the animal kingdom. The authors argue in favor of the "One Health" worldview, which brings doctors and veterinarians into close collaboration to discuss causation and treatment of diseases. For example, since stress-induced heart attacks affect both humans and animals, who's to say that human doctors can't learn from the research of veterinarians, and vice versa? The book features countless intriguing anecdotes of cross-species health problems, such as the cocker spaniel who became addicted to licking a toad or the stallion with mating problems, as well as some unforgettable one-liners: "all male mammals descend from a shared ancestral ejaculator." But the memorable examples are intended to serve the greater purpose of emphatically demonstrating that doctors and veterinarians would benefit from working together. Despite the remarkable content, the book's formulaic structure means that it is best consumed in small bites. Still, after finishing, you're guaranteed to never look at your dog, cat, or any other animal the same way again. Agent: Tina Bennett, Janklow & Nesbit. (June) (c) Copyright PWxyz, LLC. All rights reserved.
---
Library Journal
(c) Copyright 2010. Library Journals LLC, a wholly owned subsidiary of Media Source, Inc. No redistribution permitted.

Cardiology consultant to the Los Angeles Zoo, Natterson-Horowitz (cardiology, UCLA) and freelance writer Bowers have produced an eminently readable, surprising account of veterinary insights into human medicine, including adolescent and behavioral medicine, cancer prevention and risks, infectious diseases (e.g., sexually transmitted diseases and zoonoses-diseases that can be transmitted cross-species), obesity and eating disorders, sexuality, and substance abuse. (About the only human behavior Natterson-Horowitz and Bowers couldn't find in animals was the practice of safe sex.) As medicine continues to change rapidly with advances in gene therapy and molecular technology, this engaging and accessible book speaks to the widely acknowledged need for disparate scientific fields to collaborate to encourage new medical breakthroughs. Verdict This book not only speaks to the medical zeitgeist, it is also often profound. It will appeal to readers of Temple Grandin, Oliver Sacks, Neil Shubin, E.O. Wilson, Atul Gawande, and others writing about medicine and health. Highly recommended.-Mary Chitty, Cambridge Healthtech, Needham, MA (c) Copyright 2012. Library Journals LLC, a wholly owned subsidiary of Media Source, Inc. No redistribution permitted.