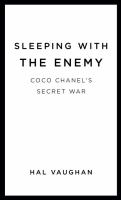 Library Journal
(c) Copyright Library Journals LLC, a wholly owned subsidiary of Media Source, Inc. No redistribution permitted.

This is an absorbing expose of a mystery that has long intrigued. Paris-based veteran journalist Vaughan (FDR's 12 Apostles) is unequivocal in his argument that there were two sides to the elegant Coco Chanel. Using information from French counterintelligence sources as well as other documents hidden for years in French, German, Italian, Soviet, and U.S. archives, he unmasks her activities during the war years; she embarked on a romance with a senior German officer in occupied Paris and cooperated with German military intelligence agents. Her reasons were personal, political, and financial, as Vaughan makes clear. While Chanel's secret life is the central focus here, other little-known details of her life and career are also -included to present a complete biography of this worldwide celebrity whose fashion genius transformed the way modern women dress. Staunchly right-wing, anti-Semitic, and anti-communist, Chanel was also lucky in love and politics, and these factors enabled her to escape postwar retribution and punishment when thousands of "collabos" like her were executed. A decades-long friendship with Winston Churchill may have been key to shielding her from prosecution. VERDICT Engrossing and accessible, this is recommended for general readers interested in fashion celebrity, espionage, or World War II.-Marie M. Mullaney, Caldwell Coll., NJ (c) Copyright 2011. Library Journals LLC, a wholly owned subsidiary of Media Source, Inc. No redistribution permitted.
---
Book list
From Booklist, Copyright © American Library Association. Used with permission.

It's been rather common knowledge that French fashion designer Coco Chanel had collaborationist leanings during the German occupation of France from 1940 to 1944. But the extent to which she participated in Nazi business while her country was being dictated to from the country next door has never before been so thrust into the public eye, in such a bold way, as in this report by an American writer, diplomat, and news correspondent. The big news here is that Chanel's Nazi sympathies went so far as to compel her to become a spy for the Reich and that her affair with a German soldier and diplomat again, information that was not unknown at the time or even after was not as harmless as she and her friends would want history to believe. This man, one Baron Hans Gunther von Sincklage, was actually up to his eyeballs in the German military intelligence machine. The author's heavily researched sources details of her collaboration with the Nazis were hidden for years in French, German, Italian, Soviet, and U.S archives have led him to tell the story of a flamingly anti-Semitic public figure who manipulated people who knew the truth about her into not telling what they knew, to the extent that her four years of collaboration never really became a public issue. HIGH-DEMAND BACKSTORY: The sensationalism inherent in this story of French designer Coco Chanel's collaboration with the Nazis will draw readers far and wide.--Hooper, Brad Copyright 2010 Booklist
---
Publishers Weekly
(c) Copyright PWxyz, LLC. All rights reserved

Gabrielle "Coco" Chanel's war was not as secret as the subtitle implies. It's well known that during WWII, the celebrated fashion designer took as her lover a much younger Nazi intelligence officer, Hans Gunther von Dincklage, and through him developed a mutually beneficial relationship with the Nazis. Journalist, diplomat, and author Vaughan (FDR's 12 Apostles), searching archives in several countries, fills in gaps in the record regarding Chanel's two intelligence missions to Madrid. The first she performed in exchange for the Nazis returning her ailing nephew from a German POW camp. The second, more well-known Operation Modellhut, a German effort to broker a separate peace with Britain, ended disastrously. Vaughan also explains Chanel's mysterious ability to avoid prosecution as a collaborator after the war, and her attempts to destroy or buy off anyone who might have testified against her. Vaughan gives mainly superficial, cliche-ridden attention to Chanel's prewar life, nor does he explore her self-contradictions-or hypocrisies-such as fiercely asserting her independence while accepting real estate worth millions from one of her serial lovers, the duke of Westminster. Vaughan's at times fascinating but unsatisfying book tarnishes Chanel's aura of glamour, leaving instead a picture of a pathetic, morphine-addicted woman who would do literally anything to have a powerful man by her side. (Aug.) (c) Copyright PWxyz, LLC. All rights reserved.