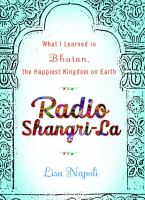 Library Journal
(c) Copyright Library Journals LLC, a wholly owned subsidiary of Media Source, Inc. No redistribution permitted.

Nestled between India and China, Bhutan is known as the last Buddhist kingdom and Land of the Thunder Dragon. The story opens with fortysomething journalist Napoli's dogged pursuit of happiness by documenting "three good things" each day. By chance, the Los Angeles-based author is persuaded to take a midlife journey to Bhutan. Taking place in 2007, this six-week sojourn's purpose is to help improve Kuzoo FM, the nation's fledgling radio station. Bhutan's monarch promotes "Gross National Happiness," restricts tourism, and imagines the radio station as a way to prepare Bhutanese young people for impending parliamentary elections. Over the course of the next two years, Napoli returns to Bhutan a few more times. Predictably, the author learns a great deal about herself and her life's choices and revels in the growth experienced by the young radio jockeys. VERDICT Napoli's fluid, elegant, and vivid prose draws readers into this special geographical place and illustrates the value of soul searching. This compelling story will inspire readers interested in other cultures and the spiritual side of world travel.-Elizabeth Connor, The Citadel, Military Coll. of South Carolina Lib., Charleston (c) Copyright 2010. Library Journals LLC, a wholly owned subsidiary of Media Source, Inc. No redistribution permitted.
---
Book list
From Booklist, Copyright © American Library Association. Used with permission.

A successful journalist working for public radio in Los Angeles, Napoli hit a wall. Burned out and overwhelmed by regret, she wondered how to recharge her life. Enter a friend of a friend with connections to the tiny Himalayan country of Bhutan. In 2006, this Buddhist kingdom, long cocooned against the outside world, launched a new youth radio station, Kuzoo FM (kuzoo zampo means hello). Would Napoli like to volunteer as a consultant? So begins a love affair with a land unlike any other, a bond that lifts Napoli out of her blues and enriches the lives of the young people with whom she works. The stories of the wildly popular station are charming and gracefully revealing as Napoli shares her experiences of Bhutan's magnificent landscape, fiery cuisine, and openhanded daily life in a society that measures its achievements not with a Gross National Product but, rather, with Gross National Happiness. Napoli's engaging, keenly observed, and informative chronicle captures Bhutan midmetamorphosis as it transforms itself into a democracy and as media and the Internet redefine the Bhutanese concept of contentment.--Seaman, Donna Copyright 2010 Booklist
---
Publishers Weekly
(c) Copyright PWxyz, LLC. All rights reserved

When Napoli met the handsome Sebastian at a cookbook party in New York City, she was intrigued by this man who traveled to Bhutan regularly. And when the accomplished L.A.-based journalist (MSNBC, CNN, public radio's Marketplace) researched the country about which he spoke so enthusiastically, she became entranced with Bhutan, a tiny Himalayan kingdom that sits between India and China. This country-dubbed "the happiest on earth" because of its focus on environmental and social progress-is hard to get to, with its remote location and governmental deterrents to tourism, like a $200 per-person, per-day tourist tax. But a friend of Sebastian's needs help with startup radio station Kuzoo FM, so Napoli leaves L.A. and goes to Bhutan for six weeks. She writes, "After more than two decades of reducing even the most complex issues to 1,000 words or less, I was tired of observing life from a distance." While the author turns an eye on her own motivations (nothing further developed with Sebastian), she refrains from tortured navel-gazing and instead shares and reflects on Bhutan's people, history, and customs (from painting phalluses on houses to repel evil spirits to Buddhism's role in daily life). Napoli's adventures at home and abroad, in nature and career and spirit, will delight readers. (Feb.) (c) Copyright PWxyz, LLC. All rights reserved.