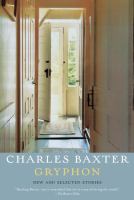 Library Journal
(c) Copyright Library Journals LLC, a wholly owned subsidiary of Media Source, Inc. No redistribution permitted.

This collected work reminds us that Baxter shines in the short story form. Whereas his novels (e.g., The Feast of Love) are cinematic in tone, his stories read like unfinished journal entries from a secret diary. By allowing the reader only a glimpse into the lives of each character, Baxter weaves together seemingly mundane activities into complex examples of love, fear, and anxiety. This collection is officially touted as a best of, with a few new additions, but, thematically, each of the 23 stories is a piece of a larger puzzle that cannot be put together. Whether his characters are standing on their head to relieve stress, writing fake horoscopes to instill confidence in their children, or teaching children to tell their fortune with a tarot deck, each action serves as a lens to focus Baxter's illumination of the mystery of life. VERDICT Readers who enjoy the simple prose of John Irving and the imagination of Michael Chabon will be delighted by this collection. [See Prepub Alert, LJ 8/10.]-Joshua Finnell, Denison Univ. Lib., Granville, OH (c) Copyright 2010. Library Journals LLC, a wholly owned subsidiary of Media Source, Inc. No redistribution permitted.
---
Book list
From Booklist, Copyright © American Library Association. Used with permission.

Baxter is a well-regarded short story writer who should be more widely appreciated. He is a consummate chronicler depictor of ordinary lives with which the majority of good fiction readers can identify. ( In my university town there are hundreds of men like Harrelson, says one narrator, whose recognition of the type will be shared by all of us.) Baxter attaches to these lives an eccentric aspect, which, ironically, heightens their universality we all have our quirks and which increases our responsiveness to them. This volume pulls stories from the author's four previous collections and adds seven previously uncollected stories. As in all big compilations, quality varies. The superior stories, including the title story (a delightful first-person narrative, from the perspective of a fourth-grade boy, about an odd substitute teacher), showcase Baxter's first-rate talents in the form: sophisticated humor, exact writing style, plots at once ordinary and extraordinary, and in, common with all masters of the form, wizardry at the fetching opening line.--Hooper, Brad Copyright 2010 Booklist
---
Publishers Weekly
(c) Copyright PWxyz, LLC. All rights reserved

Baxter's skill with short fiction is confirmed in this stellar collection of 23 stories, seven of which are new. The title story is deservedly a classic, and other favorites, such as "Fenstad's Mother," have gathered resonance as well, and the new stories show Baxter working a quirky beat. In each, the acutely observed real world is rocked by the exotic or surreal. In "Poor Devil," the "devils" are a self-destructive couple headed for a divorce, while, in "Ghosts," a stranger enters a young woman's house and tells her they are soul mates. She accuses him of being a devil, but his intentions are much less sinister than she imagines. "Nightfall had always brought his devils out," the narrator says in "The Old Murderer," a touching story about an alcoholic and an ex-con, each trying to get through the day. In "Royal Blue," arguably the best of the new stories, an undertow of mystery shadows a handsome young art dealer who understands that 9/11 has affected a fundamental change in his life. In Baxter's comic-melancholic world, people may be incapable of averting sadness or violence, but they survive. (Jan.) (c) Copyright PWxyz, LLC. All rights reserved.