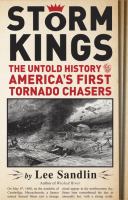 Choice
Copyright American Library Association, used with permission.

This book's title refers not to the contemporary idea of a storm observer, but instead to the people who made tornadoes a focus of their professional lives. Starting with Benjamin Franklin, Sandlin (Wicked River, 2010) introduces readers primarily to Americans who advanced the understanding of how tornadoes form and behave. He details the personalities and political intrigue that retarded the development of knowledge and its dissemination through tornado forecasting. Military and aviation needs drove the technology that made forecasting possible in the 20th century. The friction between military and civilian meteorological personnel and agencies is palpable in the account. The book is well written and engrossing, with black-and-white illustrations and compelling photographs. Sandlin identifies his major sources, and he paraphrases the records of storms and incidents without sensationalism or hyperbole. He includes one Native American encounter with a tornado that was recorded by a white observer. The Native American perspective on tornadoes, however, is limited to the Kiowa legend of Red Wind. Valuable for library collections supporting meteorological and history of science programs. Summing Up: Highly recommended. All levels/libraries. L. S. Zipp formerly, State University of New York College at Geneseo
---
Publishers Weekly
(c) Copyright PWxyz, LLC. All rights reserved

James Espy, the first meteorologist in America, thought of tornadoes as "rapidly rising column[s] of air" that operated according to the laws of steam power, pumping warm air into cold; his lifelong rival, William Redfield, maintained that the storms were "gigantic whirlwind[s], spinning around a moving center like a top." Though they were essentially espousing "two halves of the same process," they were never able to reconcile their differences and find common ground. Sandlin, however, deftly synthesizes and illuminates the duality of his title-both the tornado itself, which early settlers in America referred to as "the Storm King"; and the individuals who made it their life's work to document, predict, and better understand those despots of the plains. Legendary storms roil throughout the text, from the funnel of fire-or as one eyewitness (whose eyeballs were consequently seared) described it, "the finger of God"-that destroyed Peshtigo, Wis., in 1871, scorching over a million acres and killing 1,500 people, to the Tristate Tornado of 1925, which rampaged for 219 miles across parts of Missouri, Illinois, and Indiana. On ground level, Sandlin describes mankind's efforts to comprehend storms, from Ben Franklin's famous kite experiment to the F1-5 intensity rating system developed by Japanese immigrant Tetsuya Fujita. Sandlin makes talking about the weather much more than a conversational nicety-he makes it come brilliantly to life. 16 pages of b&w illus. Agent: Danielle Egan-Miller, Browne and Miller Literary Associates. (Mar.) (c) Copyright PWxyz, LLC. All rights reserved.
---
Book list
From Booklist, Copyright © American Library Association. Used with permission.

Long before a tornado whisked Dorothy off to the magical Land of Oz, Americans have been both terrified and fascinated by these furious black whirlwinds. Sandlin, whose Wicked River: The Mississippi When It Last Ran Wild (2010) profiled another unruly natural phenomenon, will keep readers thoroughly engrossed in this account of America's first tornado chasers. Not surprisingly, Sandlin begins with that famous colonial kite-and-key-wielding amateur electrician, Ben Franklin, who, before entering politics, often pondered the mystery of wilderness windroads and a landspout he witnessed one blustery Maryland day. A generation later, during the mid-1800s, the nation's foremost meteorologists were James Espy and William Redfield, whose conflicting theories of tornado formation fueled a decades-long bitter rivalry. Along with describing how these early weather enthusiasts painstakingly probed twister secrets, Sandlin also gives chilling accounts of several infamous tornado catastrophes, including the 1871 fire tornado in Peshtigo, Wisconsin, that killed 1,500 people. Fans of Discovery Channel's Storm Chasers and anyone who secretly venerates tornadoes will find Sandlin's history captivating.--Hays, Carl Copyright 2010 Booklist
---
Library Journal
(c) Copyright Library Journals LLC, a wholly owned subsidiary of Media Source, Inc. No redistribution permitted.

Here Sandlin (Wicked River: The Mississippi When It Last Ran Wild) relates the history of meteorology and tornadoes in the United States from colonial times to the present. The subtitle is misleading: it's not a history of tornado chasing but a history of American meteorological science, especially government and military research. Sandlin's narrative style shows influences of James Michener, for he follows his subject through generations of change. The book traces the development of the U.S. Army's Signal Corps and its contributions to tornado science. The author demonstrates that 19th-century meteorology was competitive, with scientists loudly airing their competing theories in the public arena. As people began to migrate into the tornado belt, the need for accurate forecasts increased, yet tornado science lagged until after World War II, when surplus radar units helped improve forecasting. The final chapter relates the author's experiences in a recent tornado chase, creating a surreal and almost poetic conclusion. VERDICT This remarkable and gripping book will appeal to those studying the history of science, the U.S. military, and weather forecasting.--Jeffrey Beall, Univ. of Colorado, Denver Lib. (c) Copyright 2013. Library Journals LLC, a wholly owned subsidiary of Media Source, Inc. No redistribution permitted.