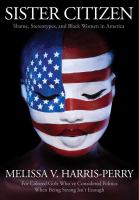 Book list
From Booklist, Copyright © American Library Association. Used with permission.

The media image of Michelle Obama as an angry black woman during the presidential campaign was part and parcel of the struggle of black women to present themselves without the baggage of old myths that limit them. Political scientist Harris-Perry examines how myths and images of black women affect the politics of their lives, their opportunities, and their emotional well-being. She draws on literature and interviews with black women regarding what it means to be a black woman and a U.S. citizen. She parallels the harrowing flood scenes in Zora Neale Hurston's classic novel Their Eyes Were Watching God and the images of the devastation of Hurricane Katrina in New Orleans. She examines Toni Morrison's Pecola in The Bluest Eye, Alice Walker's Shug Avery in The Color Purple, and other literary characters to explore specific myths and images of shame, strength, and sexuality and illustrate issues of race, gender, and class inequality. Harris-Perry offers fascinating observations of how black women are, at times, constricted by their mythology and asserts that their experiences act as a democratic litmus test for the nation. --Bush, Vanessa Copyright 2010 Booklist
---
Library Journal
(c) Copyright Library Journals LLC, a wholly owned subsidiary of Media Source, Inc. No redistribution permitted.

Harris-Perry (political science, Tulane Univ.; Barbershops, Bibles, and BET: Everyday Talk and Black Political Thought) offers a fascinating academic discussion of barriers to African American women's presence in American political culture. Central to her thesis is the democratic idea that an individual's personal and national identity must be accurately recognized and named to permit full citizenship and pursuant political participation. She goes on to identify and analyze society's rampant misrecognition of African American women and its insistence on viewing them within the narrow confines of stereotypes. The text includes examples of negative portrayals of African American women and Harris-Perry's research on reportage on the impact of these portrayals. VERDICT This honest and unflinching display of the challenges to political participation in America offers readers little regarding strategies toward either overcoming or rectifying this situation. Further, when Harris-Perry draws the reader toward fictive parallels in which novelized African American women characters exhibit resilience while becoming the politicized embodiments of named stereotypes, the central issue becomes muddled. Recommended, nonetheless, for scholars and students of African American studies, feminism, political science, and American culture.-Jewell Anderson, Armstrong Atlantic State Univ. Lib., Savannah, GA (c) Copyright 2011. Library Journals LLC, a wholly owned subsidiary of Media Source, Inc. No redistribution permitted.
---
Choice
Copyright American Library Association, used with permission.

An excerpt from Zora Neale Hurston's Their Eyes Were Watching God (1937) serves as the frame for a question: If politics is about recognition, then how do black women claim such recognition in the face of multiple socially constructed negative images? This question is at the core of the multifaceted analysis conducted by Harris-Perry (Tulane Univ.). The analysis brings together literature, biography, and social science to tell the story of how black women respond to intergroup and intragroup misrecognition to make their claims of citizenship. Harris-Perry asserts that black women, in their quest for citizenship, must confront the shame that results from the imposition of images such as "Jezebel." Her book continues the work of other researchers who have long sought to assert the voices of black women, such as Sue Jewell's From Mammy to Miss America (CH, Jan'93, 30-5783), in discussions of democracy and citizenship. There is a lot to unpack in this book as it touches on the public and private lives of black women, and on various topics such as Hurricane Katrina and the depiction of Michelle Obama. While this makes the analysis comprehensive, it also makes it daunting. Summing Up: Recommended. Upper-division undergraduate, graduate, research, and professional collections. J. S. Jordan-Zachery Providence College
---
Publishers Weekly
(c) Copyright PWxyz, LLC. All rights reserved

Harris-Perry (Barbershops, Bibles, and BET), columnist for the Nation, draws on literature, biography, social science, anecdote, and focus group statistics to explore the three most pervasive (and pernicious) stereotypes of black women-Jezebel (who signifies sexual promiscuity), Sapphire (emasculating brashness), and Mammy (a devotion to "white domestic concerns"). She assays the political implications and consequences of these archetypes in the lives of contemporary black women-and for how they influences black women's participation in American public life, finding that they enjoy a less than complete citizenship: "these misrecognitions contribute to pervasive experiences of shame for black women [which] limit the opportunities for African American women as political and thought leaders." Harris-Perry's methodological style leaves a lot of room for academic debate, but her easy straddling of women's and African-American studies and current hot-button issues (everything from Hurricane Katrina to the Duke lacrosse case) and her style could fit as easily into the classroom as a reading group. (Oct.) (c) Copyright PWxyz, LLC. All rights reserved.