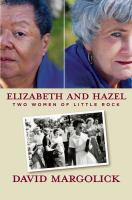 Publishers Weekly
(c) Copyright PWxyz, LLC. All rights reserved

Vanity Fair contributing editor Margolick (Beyond Glory) brings his considerable skill to telling a tale many may, mistakenly, think they already know. Bound together in the iconic photograph of the integration of Little Rock's Central High School in which the white Hazel Bryan is caught screaming epithets at the stoic black student, Elizabeth Eckford, the two women went on different paths charted by this sympathetic and readable dual biography. Elizabeth survived the horrendous harassment of her high school years, and the lavish attention upon the Little Rock Nine, followed by a difficult early adulthood. While Hazel's high school years, spent in anonymity at another school, are more halcyon, her early adult years are difficult as well. For both young women, the experience and the photograph that was to follow them were transformative. Margolick pays particularly insightful attention to the photographs and media coverage stimulated not only by the event but all the ensuing anniversaries. As Margolick moves through Elizabeth's days at Central High with new and meticulous detail, he gives Hazel a young life as well before turning to the separate years before they actually meet. Here Margolick's book becomes utterly engrossing, for it touches on a variety of thorny, provocative themes: the power of race, the nature of friendship, the role of personality, the capacity for brutality and for forgiveness. (Sept.) (c) Copyright PWxyz, LLC. All rights reserved.
---
Book list
From Booklist, Copyright © American Library Association. Used with permission.

*Starred Review* When Elizabeth Eckford braved the gauntlet of white hecklers leading to the newly desegregated Central High School in Little Rock, Arkansas, in 1957, photographers captured her image and that of the angry young white woman behind her. Elizabeth, the stoic, and Hazel Bryan, the tormentor, were frozen as icons. Elizabeth was part of the Little Rock Nine, the black teens who became the targets of race hatred as well as national and international inspirations. Despite public-relations efforts to depict the success of the Nine and the overall move to desegregation, the truth was far more complicated, particularly for Elizabeth. Margolick draws on interviews and press reports of the time to present a very nuanced analysis of how Elizabeth and Hazel were affected by the scene that made them famous. Elizabeth spent the remainder of her life a near recluse, scarred by the memory of that day, adrift emotionally, dodging the commemorations. In contrast, Hazel opened up, evolving into a free-spirited progressive. Hazel, who didn't even finish her year at Central High, later reentered Elizabeth's life with a heartfelt apology that went unreported until the two women reunited for a symbolic reconciliation and photo op back at Central. A complex look at two women at the center of a historic moment.--Bush, Vanessa Copyright 2010 Booklist
---
Library Journal
(c) Copyright Library Journals LLC, a wholly owned subsidiary of Media Source, Inc. No redistribution permitted.

In September 1957, Elizabeth Eckford attempted to enter Little Rock Central High School. One of what became known as the Little Rock Nine, she was prevented from entering the building and headed to a nearby bus stop instead, followed by an angry mob that included Hazel Bryan. Just as Bryan was screaming at Eckford, a journalist snapped a photo that came to define not only integration in Arkansas but, as Margolick (Strange Fruit: The Biography of a Song) shows, the lives of Eckford and Bryan. There are volumes of scholarly works on the Civil Rights Movement, but this book is different. By tracing the two women's journeys from that moment until today, often in their own words, Margolick artfully lays bare the emotional and mental wounds and struggles of the participants. Both are presented as human, complete with flaws and weaknesses. Margolick also places the women in the context of the wider civil rights era and beyond. The ending is not what you would expect or even hope for but instead demonstrates how much pain is still felt by all involved and how far we all have still to travel. VERDICT Very thoughtfully and sincerely written, this work is simply a must-read. [Previewed in "Booked Solid," LJ 7/11.-Ed.]-Lisa A. Ennis, Univ. of Alabama at Birmingham Lib. (c) Copyright 2011. Library Journals LLC, a wholly owned subsidiary of Media Source, Inc. No redistribution permitted.