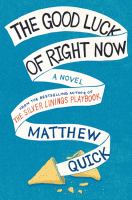 Library Journal
(c) Copyright Library Journals LLC, a wholly owned subsidiary of Media Source, Inc. No redistribution permitted.

For 40-odd years, Bartholomew Neil has lived quietly in Philadelphia with his aging mother. In her last days, dementia causes her to refer to her son as Richard, presumably after her favorite actor, Richard Gere. In a series of letters to the actor, Bartholomew outlines his isolated life in funny, plaintive, and sometimes darkly obsessive terms. We learn of Father McNamee, a longtime family friend, who suffers from bipolar disorder and moves in with Bartholomew. Life-skills and grief counselors try to assist but have issues of their own. When Bartholomew encounters profane, cat-loving Max in a therapy group, he fulfills a long-term desire to meet the library worker he has admired from his local branch, who happens to be Max's sister, Elizabeth. Serendipitous events like this help to cement Bartholomew's growing belief in the phenomenon his mother called "the good luck of right now." VERDICT Quick (aka "Q"), author of The Silver Linings Playbook, on which the highly acclaimed movie was based, has film rights optioned for several books, including this one. He has a rare skill in portraying characters with mental illness, which, when coupled with his deft hand at humor, produces compelling and important prose. Interest should be high; fans of Wally Lamb, Mark Haddon, or Winston Groom will appreciate. [See Prepub Alert, 8/12/13.]-Jennifer B. Stidham, Houston Community Coll. Northeast (c) Copyright 2014. Library Journals LLC, a wholly owned subsidiary of Media Source, Inc. No redistribution permitted.
---
Publishers Weekly
(c) Copyright PWxyz, LLC. All rights reserved

The newest from The Silver Linings Playbook author Quick is a quirky coming-of-age story about an earnest, guileless 38-year-old man with a dyspeptic stomach. After caring for his mother until her death, Bartholomew Neil begins adding to his writing repertoire-he already keeps an "Interesting Things I Have Learned" notebook-penning letters to Richard Gere when he discovers a "free Tibet" letter from Gere, his mom's favorite actor, among her things. Told by his grief counselor that Bartholomew should find his flock, he believes coincidence is at play and begins recounting stories from his life to the actor, and soliciting advice as well. Bartholomew's plan starts small: he wants to have a drink in a bar with a buddy and go on a date with a girl-hopefully the "girlbrarian" at the library where he spends most days reading books about Jung or the Dalai Lama. His motley flock slowly takes form, including the bipolar priest he's known his whole life, a foulmouthed paranoid grieving for his dead cat, and the paranoid's depressed sister, who just so happens to be the girlbrarian. Quick writes with an engaging intimacy, capturing his narrator's innocence and off-kilter philosophy, and the damaged souls in orbit around him. (Feb.) (c) Copyright PWxyz, LLC. All rights reserved.
---
Book list
From Booklist, Copyright © American Library Association. Used with permission.

Quick, the author of The Silver Linings ­Playbook (2008), provides another offbeat gem populated with eccentric, fallible, intensely human characters. After his mother's death, 38-year-old Bartholomew Neil, a middle-aged man who has never left home, is at a crossroads in his life. Finding a form letter from Richard Gere buried in his mother's underwear drawer, he begins a one-sided correspondence with the superstar, triggering a series of events that culminates in a life-­altering road trip to Canada with a motley crew of misfits including his secret crush, the girlbrarian; her foulmouthed, oddball brother; and a Catholic priest who has fled his parish. The quartet travels northward in search of Bartholomew's biological father, and humor, pathos, and quirky bends in the road define their odyssey, making it increasingly clear that it is all about the journey, not the destination. HIGH-DEMAND BACKSTORY: Considering the megapopularity of the film version of The Silver Linings Playbook, expect high demand for this spiritually fueled midlife coming-of-age novel.--Flanagan, Margaret Copyright 2010 Booklist