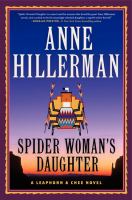 Publishers Weekly
(c) Copyright PWxyz, LLC. All rights reserved

In her first novel, reporter Hillerman successfully revives Navajo policemen Joe Leaphorn and Jim Chee, last seen in The Shape Shifter (2006), the final book from her father, MWA Grand Master Tony Hillerman (1925-2008). Officer Bernadette Manuelito, who married Chee in 2004's Skeleton Man, sees a gunman shoot Leaphorn in a restaurant parking lot, but isn't close enough to stop the shooter from driving off. With Leaphorn comatose, Chee is named head investigator, while Manuelito is officially removed from the case because she's a witness. Leaphorn's current job evaluating a collection that the American Indian Resource Center is acquiring may provide a clue to his attacker. The much used getaway car and the odd disappearance of Leaphorn's anthropologist lady friend, Louisa Bourebonette, may offer other clues. Chee may lead, but Manuelito forcefully injects herself into the case as a desperate killer threatens to strike again. Like her father, Hillerman has a gift for combining history and mystery. Agent: Elizabeth Trupin-Pulli, JET Literary Associates. (Oct.) (c) Copyright PWxyz, LLC. All rights reserved.
---
Library Journal
(c) Copyright 2010. Library Journals LLC, a wholly owned subsidiary of Media Source, Inc. No redistribution permitted.

Tony Hillerman's 18 mysteries followed the investigations of Navajo cops Joe Leaphorn and Jim Chee. Fans mourned when Hillerman died in 2008. Now the late author's beloved characters return in this series relaunch by his daughter, Anne. The book opens with an act of unexpected violence against a dear friend, witnessed by police officer Bernadette Manualito. She and her husband, Jim Chee, begin to piece together clues and determine who would commit this crime, even questioning the motives of the unaccounted-for Louisa Bourbonnette, Leaphorn's friend and housemate. Interspersed throughout the tale, yet important to character development and emphasizing the role of Navajo culture and beliefs (a highlight of the previous series), are vignettes of Bernadette's troubled sister and Jim's past studies to become a Navajo healer and descriptions of Navajo creation stories. Characters from 1988's Thief of Time play a dominant role in the unfolding of the plot. Pot hunters, archaeologists, controversy over the museum display of tribal objects, and insurance fraud culminate in a heart-stopping, action-packed conclusion as Bernadette and Jim risk their lives to bring a would-be assassin to justice. VERDICT Fans of Southwestern mysteries will cheer this return of Leaphorn and Chee. [See Prepub Alert, 4/29/13; also highlighted at LJ's Day of Dialog Editors' Picks panel.-Ed.]--Patricia Ann Owens, formerly with Illinois Eastern Community Colls., Mt. Carmel (c) Copyright 2013. Library Journals LLC, a wholly owned subsidiary of Media Source, Inc. No redistribution permitted.
---
Book list
From Booklist, Copyright © American Library Association. Used with permission.

Hillerman, who has written some nonfiction, now tries her hand at fiction, incorporating some of her late father Tony's characters into the story. Although billed as a Leaphorn & Chee Novel, neither character is really in the spotlight here. That position is reserved for Navajo Tribal Police Officer Bernadette Bernie Manualito, Chee's wife. When the retired Leaphorn is shot right in front of Bernie, and the assailant escapes, Bernie swears she'll find the person responsible. As a witness, however, Bernie is removed from the case and relegated to finding Leaphorn's family. Jim Chee is put in charge, but he knows very well that stubborn, determined Bernie won't stand down, especially when someone she considers an uncle is the victim. Hillerman builds upon characters and themes from her father's Thief of Time (1988), applying her own knowledge of contemporary Navajo culture. The spiritual elements prominent in previous Leaphorn-Chee books are downplayed, and the measured plot (with perhaps too much attention to the desert landscape) has few surprises. What intrigues is Bernie herself, a devoted young Native American balancing her heritage and family obligations with the demands of a difficult job.--Zvirin, Stephanie Copyright 2010 Booklist