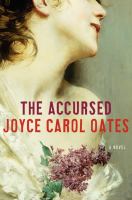 Book list
From Booklist, Copyright © American Library Association. Used with permission.

*Starred Review* Soon after arriving at Princeton University, where she continues to teach, Oates completed Bellefleur (1980), launching a series of sly gothic novels. One manuscript, The Crosswicks Horror, was left unfinished, and Oates has now resurrected it as a lush, arch, and blistering fusion of historical fact, supernatural mystery, and devilish social commentary. High-strung and ambitious Woodrow Wilson is the president of Princeton. Anxious over festering conflicts and appalled by what he learns about his distant relative and protege after the nearby lynching of an African American man and his pregnant sister, Wilson seeks advice from retired Reverend Winslow Slade, who would rather think about the upcoming wedding of his granddaughter, Annabel. But this fair maiden is in danger of falling under the spell of a handsome stranger with otherworldly eyes. As an elite WASP enclave finds itself caught in the grip of inexplicable terror, readers will be bewitched by a fantastically dramatic, supremely imaginative plot rife with ghosts, vampires, demons, and human folly. Oates brings her nightshade humor and extraordinary fluency in eroticism and violence, American history and literature (her magnetizing characters include Mark Twain, Jack London, and Upton Sinclair) to this piercing novel of the devastating toll of repression and prejudice, sexism and class warfare. A diabolically enthralling and subversive literary mash-up. HIGH-DEMAND BACKSTORY: Propelled by a lavish national tour and multimedia campaign, The Accursed is destined to be one of Oates' most widely appealing and avidly read novels.--Seaman, Donna Copyright 2010 Booklist
---
Publishers Weekly
(c) Copyright PWxyz, LLC. All rights reserved

Oates has published more than enough books to take risks, and her newest is exactly that: first drafted in the early 1980s, then set aside, the novel is, in addition to being a thrilling tale in the best gothic tradition, a lesson in master craftsmanship. Distilled, the plot is about a 14-month curse manifesting in Princeton, N.J., from 1905 to 1906, affecting the town's elite, including the prominent Slades of Crosswicks and Woodrow Wilson, the president of Princeton University. After Annabel Slade is strangely drawn out of the church during her wedding, an escalating series of violence and madness based in secrets and hypocrisy is unleashed in the community. This story has vampires, demons, angels, murder, lynching, beatings, rape, sex, parallel worlds,, Antarctic voyages, socialism, sexism, racism, paranoia, gossip, spiritualism, and escalating insanity. Oates uses the Homeric ring structure, and her mysterious narrator takes frequent tangents, offering backstories, side stories, footnotes, and a hilarious, subtly satirical chapter on the different-colored diaries and lacquered boxes providing his "sources." The story sprawls, reaches, demands, tears, and shrieks in homage to the traditional gothic, yet with fresh, surprising twists and turns. Oates weaves historical figures throughout, grounding the narrative in a quasi-familiar reality without losing a "through the looking-glass" surrealism. The cause of the curse is not much of a surprise, but the way it's broken is both traditionally mythic and satisfying. Oates has given us a brilliantly crafted work that refreshes the overworked tradition. The author's rage at social injustices and the horrific "cures" for invalids boil beneath the surface; she's skilled enough to let them fuel the fury without erupting into fire. Take on this 700-page behemoth with an open mind, and hang on for the ride. Agent: Warren Frazier, John Hawkins and Assoc. (Mar.) (c) Copyright PWxyz, LLC. All rights reserved.
---
Library Journal
(c) Copyright Library Journals LLC, a wholly owned subsidiary of Media Source, Inc. No redistribution permitted.

Crossing history and needling social commentary with folklore and Grand Guignol horror, Oates offers a grandly over-the-top tale. Narrated at some remove by a wasp-tongued historian who pretends objectivity, it opens with Annabel, granddaughter of the estimable clergyman Winslow Slade, meeting a seductive if slightly menacing man in the family garden in Princeton, NJ. Later, at a fete at the sumptuous "cottage" her family is bestowing upon Annabel and her chilly military fiance, former President Grover Cleveland collapses at the (presumed) sight of his dead daughter's ghost. When Annabel is lured from the altar by her admirer, who just might be the Devil, it seems that a curse has been laid upon the family and their upper-crust associates, who disdain upstart Princeton president Woodrow Wilson and don't even know that socialist author Upton Sinclair, living nearby, exists. As deaths occur and Annabel's brother, Josiah, hunts for her while coming into full rebellion against his family, we are taken on a tour of hell. VERDICT Though the mix of genres might be too rich for some readers and the happy ending too manufactured for others, this is a smart and relentlessly absorbing read. [See Prepub Alert, LJ 9/10/12.]-Barbara Hoffert, Library Journal (c) Copyright 2012. Library Journals LLC, a wholly owned subsidiary of Media Source, Inc. No redistribution permitted.