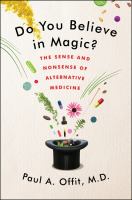 Choice
Copyright American Library Association, used with permission.

Physician/vaccine specialist Offit (Children's Hospital of Philadelphia) presents a biting critique of alternative medicine, primarily nutritional supplements and vitamins, used in treating diseases, often of a serious nature. Despite the lack of evidence demonstrating therapeutic effectiveness, alternative medicine has been endorsed by practitioners and well-known, highly influential people including television personalities and politicians, who tout the success of these treatments. For some, the use of alternative medicine comes at a high cost both financially (insurance typically does not cover these treatments) and physically (people delay treatment with conventional medicine, leading to a worsening of their illness and at times, death). Powerful political allies have blocked legislative attempts to regulate these therapies, especially nutritional supplements and vitamins, thus posing further risks to users of alternative medicine. While Offit's evaluation raises critical issues and serious concerns, he tends to collapse under one umbrella all alternate medicine approaches. He concludes that, with few exceptions, most are costly, no more effective than placebos, and in some cases harmful. He indicts all alternative medicine, although the evidence he provides addresses primarily nutritional supplements and vitamins. From this more limited perspective, he makes a convincing argument. Summing Up: Recommended. Lower-division undergraduates and general readers. C. L. Mejta Governors State University
---
Publishers Weekly
(c) Copyright PWxyz, LLC. All rights reserved

According to infectious disease specialist Offit (Autism's False Prophets: Bad Science, Risky Medicine, and the Search for a Cure), half of Americans believe in the "magic" of alternative medicine, fueling a $34 billion-a-year business that offers treatments that are at best placebos, and at worst deadly. He blasts untested, unregulated, overhyped remedies-like anti-autism creams and bogus cancer cures using "antineoplastons"-and dares to berate celebs like "America's Doctor," Mehmet Oz, who "believes that modern medicine isn't to be trusted"; alternative treatment superstars Andrew Weil and Deepak Chopra, proponents of the natural world and wisdom of the ancients; and former Three's Company star Suzanne Somers, who crusades for unproven menopause treatments, including her daunting regimen of "bioidentical hormone replacement therapy." "There's a name for alternative medicines that work," one McGill professor notes: "It's called medicine." Offit insists that "making decisions about our health is an awesome responsibility. If we're going to do it, we need to take it seriously." With a fascinating history of hucksters, and a critical chronology of how supplements escaped regulation, Offit cautions consumers not to "give alternative medicine a free pass because we're fed up with conventional medicine." His is a bravely unsentimental and dutifully researched guide for consumers to distinguish between quacks and a cure. Agent: Gail Ross, the Ross Yoon Agency. (June) (c) Copyright PWxyz, LLC. All rights reserved.
---
Library Journal
(c) Copyright Library Journals LLC, a wholly owned subsidiary of Media Source, Inc. No redistribution permitted.

Offit (chief, infectious diseases, Children's Hosp. of Philadelphia; Deadly Choices: How the Anti-Vaccine Movement Threatens Us All) examines alternative medical therapies that are popular today: acupuncture, homeopathy, chiropractic, herbs and supplements, and cancer cures. He discusses the history of these treatments and states that there is no evidence for their effectiveness. He also looks at celebrities such as Dr. Oz, Andrew Weil, Oprah Winfrey, Suzanne Somers, and Jenny McCarthy who endorse and sell alternative treatments. Using case histories to show the sometimes tragic outcomes of abandoning modern medicine, the author separates the therapies that work from those that are useless. Some alternative therapies do work in select cases, although the placebo effect may be involved. Offit notes that the placebo effect is a valid one, saying, "There's no such thing as alternative medicine. There's only medicine that works and medicine that doesn't." -VERDICT This excellent, easy-to-read look at the alternative-medicine industry is highly recommended.-Barbara Bibel, Oakland P.L. (c) Copyright 2013. Library Journals LLC, a wholly owned subsidiary of Media Source, Inc. No redistribution permitted.
---
Book list
From Booklist, Copyright © American Library Association. Used with permission.

Half of all Americans use some form of alternative medicine megavitamins and supplements, acupuncture, homeopathy, faith healing, chiropractic manipulation. The popularity of these treatments is multifaceted. Many people believe natural remedies are safer and better than formulated pharmaceuticals. Some folks crave the personalized attention and extended time that alternative healers provide compared to conventional doctors, who might be hurried or aloof. Still others find alternative therapies to be spiritual and empowering. Physician Offit counters, Don't give alternative medicine a free pass. Concentrate on the evidence. Any treatment conventional or alternative should be subjected to high standards of proof. The influence of money, celebrities, and politics props up alternative medicine. Desperation sometimes plays a role, too, as does disenchantment with mainstream medicine. He cites solid scientific studies that refute any benefit of vitamin C, ginkgo biloba, and saw palmetto in preventing the common cold, memory loss, or urinary symptoms, respectively. Offit praises the power of the placebo response a major reason why some alternative medicine treatments actually work.--Miksanek, Tony Copyright 2010 Booklist