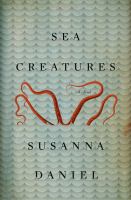 Library Journal
(c) Copyright Library Journals LLC, a wholly owned subsidiary of Media Source, Inc. No redistribution permitted.

Following Stiltsville, winner of the PEN/Bingham Prize for Debut Fiction, Daniel returns to her hometown of Miami to offer a painfully honest look at the imperfections of parenthood and the inadvertent tragedies of both momentary inattention and futile hope. In the early 1990s, Georgia and Graham Quillian have relocated with their three-year-old son, Frankie, who has suddenly stopped speaking. While Graham settles into a new position in meteorological research, Georgia takes a job as an errand runner to reclusive artist Charlie. Shuttling between their residential houseboat and Charlie's "stilt-house" on Biscayne Bay, Georgia reflects on Graham's debilitating sleep disorder, her own chronic insomnia, and the increasingly negative effect of these problems on Frankie. Eventually, the fear and destruction wrought by Hurricane Andrew give way to renewal for Georgia and her family. VERDICT Don't confuse the waterfront setting with light beach reading; this is substantive domestic drama. Not all the characters are equally engaging, but readers interested in families coping with disabilities will find Frankie particularly compelling as he navigates changing relationships and obstacles. [See Prepub Alert, 2/4/13.]-Jennifer B. Stidham, Houston Community Coll.-Northeast (c) Copyright 2013. Library Journals LLC, a wholly owned subsidiary of Media Source, Inc. No redistribution permitted.
---
Publishers Weekly
(c) Copyright PWxyz, LLC. All rights reserved

Daniel returns to Stiltsville's South Florida in a second novel filled with domestic upheaval, difficult choices, and far-reaching consequences. Georgia Quillian and her husband, Graham, move to Coral Gables in 1992 with their selectively mute three-year-old son Frankie in tow, aiming to start afresh after her startup business goes belly up and Graham's parasomnia (a sleep disorder) threatens to end his career. The two buy a houseboat, Georgia takes a job shuttling supplies to Stiltsville for a reclusive artist 25 years her senior, and Graham gets a second chance at a marine research facility. But their newfound tranquility is shaken when a workup by a specialist links Frankie's speech problem to Graham's potentially violent sleepwalking episodes, and the couple's marriage sinks into murky waters. In contrast to the book's pleasurably even-keel beginnings, the climax, ushered in by Hurricane Andrew, feels crammed with mayhem and melodrama, and one of the catalysts-Graham's sleep disorder-begs for more development early on to balance out his eventual fate. Nonetheless, Daniel's verdant descriptions of salt and sea continue to shine, as does her portrayal of a mother struggling to protect her son. Agent: Emily Forland, Brandt & Hochman. (Aug.) (c) Copyright PWxyz, LLC. All rights reserved.