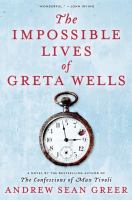 Publishers Weekly
(c) Copyright PWxyz, LLC. All rights reserved

In Greer's time-traveling fourth novel (following The Story of a Marriage), the eponymous Greta skips between three different eras, and her life is intertwined with the same two characters (and other incarnations of herself) in each. Greta Wells, living in New York City in 1985, is devastated by her twin brother Felix's death from AIDS and the end of her long-term relationship with Nathan. To treat her crippling depression, she pursues electroconvulsive therapy, which begins a cycle of magical time travel. In 1941, Felix is alive and Nathan is her husband; and in 1918, Nathan is away at war and Felix, though still homosexual, is deeply closeted. As the Greta of 1985 explores these timelines, the versions of herself from 1918 and 1941 also travel to each other's eras. No timeline is perfect; each offers losses and compensations. Felix's stories provide an especially moving exploration of the limited choices available to gay people throughout history. The Gretas have surprisingly little solidarity, intruding into each other's lives without warning or permission. While Greer too often skimps on the period details that can give time travel stories a sense of reality, the novel's central questions-how does experience change us, and which relationships are worth sacrificing for-work to bridge its chronological jumps. Agent: Lynn Nesbit, Janklow & Nesbit. (June) (c) Copyright PWxyz, LLC. All rights reserved.
---
Book list
From Booklist, Copyright © American Library Association. Used with permission.

Greer (The Confessions of Max Tivoli, 2004, and The Story of a Marriage, 2008) cleverly reinvents that always popular staple: the time-travel novel. The story opens in 1985 as a severely depressed Greta Wells undergoes electroshock therapy in order to cope with the death of her beloved twin brother and a devastating personal betrayal by her long-term significant other. With each treatment, she is whisked back and forth through three different lives, landing in 1918, 1941, or 1985. As the eras change, she carries her circle of family and friends with her, and the setting New York's charming West Village remains a paradoxically evolving constant. Despite the fact that she is essentially the same person in every life, her choices, dictated as much by time and place as by personality and free will, are radically dissimilar. Philosophically intriguing as well as gorgeously imagined and executed, this novel will catch fire with the same audience that propelled Audrey Niffenegger's The Time Traveler's Wife (2003) to the top of the best-seller list.--Flanagan, Margaret Copyright 2010 Booklist
---
Library Journal
(c) Copyright Library Journals LLC, a wholly owned subsidiary of Media Source, Inc. No redistribution permitted.

Greer's (The Story of a Marriage; The Confessions of Max Tivoli) imaginative treatment of love and relationships shines again in his third novel. It is 1985 when Greta is faced with a debilitating depression after the death of her twin brother, Felix, and shortly thereafter the end of her marriage. She seeks electroconvulsive treatment, a succession of 25 procedures, for her condition. The doctor assures her it will not change her, only alleviate her depression. But with each treatment, a door is opened to a different life, either in 1918, 1941, or 1985. Although Greta keeps her feelings intact for her beloved brother, her former husband, Nathan, and her Aunt Ruth, the relationships change and mutate in each era she experiences. As her time travel escalates outsides the boundaries of her understanding and logic, Greta is faced with bracing herself for the unknown. VERDICT Fans of Audrey Niffenegger's The Time Traveler's Wife will delight in following the thought process of time traveling while maintaining a hold on a singular identity. [See Prepub Alert, 1/6/13.]-Susan Carr, Edwardsville P.L., IL (c) Copyright 2013. Library Journals LLC, a wholly owned subsidiary of Media Source, Inc. No redistribution permitted.