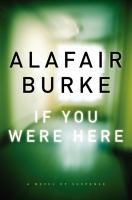 Publishers Weekly
(c) Copyright PWxyz, LLC. All rights reserved

Burke's outstanding stand-alone suspense novel, her second after 2011's Long Gone, stars appealing (if impulsive) McKenna Jordan, a New York City journalist whose stint covering the DA's office ended in a maelstrom of media indignation when she falsely accused a cop of planting a gun. McKenna's investigation into the story of an unidentified woman who singlehandedly pulled a teenager from the subway tracks takes an unexpected turn. Grainy video footage of the incident reveals that the heroic woman uncannily resembles McKenna's old friend Susan Hauptmann, a gregarious West Point grad whose mysterious disappearance 10 years earlier has haunted McKenna. The stakes rise as McKenna moves from chasing the story du jour to chasing a long-buried truth-revisiting the character of the woman she thought she knew as well as the controversial case that discredited her. Burke succeeds in making Susan plausible as a woman who is charming and complex enough to warrant McKenna hurling herself into an inquiry that threatens her journalistic credibility, her relationship with her husband, and possibly her life. Burke's accuracy in legal and judicial technicalities is impressive although most readers will find simpler pleasures in her sharp writing, well-constructed plot, and dimensional characters. Agent: Philip Spitzer, the Philip Spitzer Literary Agency. (June) (c) Copyright PWxyz, LLC. All rights reserved.
---
Library Journal
(c) Copyright Library Journals LLC, a wholly owned subsidiary of Media Source, Inc. No redistribution permitted.

A woman single-handedly saves the life of a young baseball star after he falls onto a subway track, and all of New York City is talking. When journalist McKenna Jordan discovers cell phone footage of the rescue, she is shocked to see that the heroic mystery woman bears a striking resemblance to a friend who disappeared a decade earlier. McKenna's obsession with finding the subway hero uncovers memories and unanswered questions from a time in her life she'd rather forget. A string of bad luck and accusations are not enough to dissuade McKenna from finding the truth. Alone and discredited, she continues to seek answers and piece together a story that will ultimately change the past. VERDICT A break from Burke's Ellie Hatcher series (Never Tell; Angel's Tip), her new stand-alone delivers a cleverly nuanced plot that will keep the pages turning. Her smart writing is fast-paced and engaging, and this book should appeal to most mystery readers, especially those looking for compelling, intelligent story lines. Despite a somewhat drawn-out, complicated ending, the overall reading experience is a delight. [See Prepub Alert, 12/14/12.]-Vicki Briner, City Coll. Lib., Fort Lauderdale, FL (c) Copyright 2013. Library Journals LLC, a wholly owned subsidiary of Media Source, Inc. No redistribution permitted.
---
Book list
From Booklist, Copyright © American Library Association. Used with permission.

Burke seems less confident in this book than she was in Long Gone (2011), her previous stand-alone thriller. Where Alice Humphreys came off as strong and directed in the earlier novel, New Yorker McKenna Wright seems insecure, much less comfortable in her skin. Plotting, too, is a little less focused than usual for Burke, whose Detective Ellie Hatcher series has earned accolades for character development and tightly controlled plotting. Even so, Burke manages to deliver some exciting moments here, as lawyer-turned-journalist McKenna finds her life turned upside down when she recognizes a friend from her college years who disappeared without a trace a decade before on a video of a near-tragedy on the subway. At the same time, McKenna's career takes a devastating hit when evidence turns up that compromising e-mails she used in an article about a judge originated not from the public but from her own computer. Stubborn curiosity about her friend and anger about unjust accusations propel McKenna forward into what others assert is ridiculously wild speculation. Not Burke's best, but still a solid thriller that will engage her growing audience.--Zvirin, Stephanie Copyright 2010 Booklist