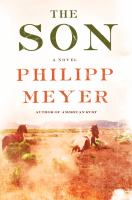 Library Journal
(c) Copyright Library Journals LLC, a wholly owned subsidiary of Media Source, Inc. No redistribution permitted.

Eli McCullough, the first male child born in the Republic of Texas, is kidnapped at age 13 by Comanches, and from then on his life becomes a study in conflict. During three years of living with the Indians, he wins their respect and is thought of as an upcoming chief. But by the time he turns 16, having mastered the art of scalping, he is set free. Forever restless, he becomes a Texas Ranger, a cattle rancher, and, later, a colonel in the Civil War. His son, Pete, is cut from a different cloth and rebels against his family's history of violence and anti-Mexican racism. His rebellion includes the love of a Mexican woman. Pete's daughter, Jeanne Anne, struggles to be taken seriously as a rancher and oil tycoon. The broody McCulloughs gain in wealth but often pay dearly. A strain of misunderstood lonesomeness hounds each generation. VERDICT Treading on similar ground to James Michener, Larry McMurtry, and Cormac McCarthy, Guggenheim Fellowship-winner Meyer (American Rust) brings the bloody, racially fraught history of Texas to life. Call it a family saga or an epic, this novel is a violent and harrowing read. [See Prepub Alert, 11/30/12.]-Keddy Ann Outlaw, formerly with Harris Cty. P. L., Houston (c) Copyright 2013. Library Journals LLC, a wholly owned subsidiary of Media Source, Inc. No redistribution permitted.
---
Publishers Weekly
(c) Copyright PWxyz, LLC. All rights reserved

In chronicling the settlement and scourge of the American West, from the Comanche raids of the mid-19th century into the present era, Meyer never falters. The sweeping history of the McCullough dynasty unfolds across generations and through alternating remembrances of three masterfully drawn characters: Eli, the first white male born in a newly founded Texas, captured and raised by Comanche Indians; Eli's self-sacrificing son, Peter, who shuns everything his power-hungry father represents; and Jeannie, Eli's fiercely independent great-great-granddaughter, who inherits the family fortune. Chapters detailing Peter's affair with a Mexican neighbor and his moral struggle with his ancestors' bloody legacy are keenly balanced alongside those involving Jeannie's firm yet impassive rule over the modern McCullough estate. But it's the engrossing, sometimes grotesque descriptions of Eli's early tribal years-scalpings, mating rituals, and a fascinating few pages about the use of buffalo body parts that recalls Moby Dick-that are the stuff of Great American Literature. Like all destined classics, Meyer's second novel (after American Rust) speaks volumes about humanity-our insatiable greed, our inherent frailty, the endless cycle of conquer or be conquered. So, too, his characters' successes and failures serve as a constant reminder: "There is nothing we will not have mastered, except, of course, ourselves." Agent: Eric Simonoff, WME Entertainment. (June) (c) Copyright PWxyz, LLC. All rights reserved.
---
Book list
From Booklist, Copyright © American Library Association. Used with permission.

*Starred Review* Inside Meyer's massive Texas saga is perhaps the best Indian captive story ever written: in 1849, 13-year-old Eli McCullough is abducted by Comanches after they've raped his mother and sister. Eli adapts. He learns the language and how to hunt and raid, and by age 16, he's a fierce warrior. In the process, the reader is treated to a fascinating portrait of the Comanches, including a Melville-like cataloging of all they did with the buffalo. Eventually, young Eli returns to the white world, but after an affair with a judge's wife worthy of Little Big Man, he's forced into the Texas Rangers. Later still, he fights for the South and steals a fortune from the North. He returns to South Texas to found an unimaginably large ranch, which he adds to by trumping up a massacre of a distinguished Mexican family, the Garcias. No scion measures up to Eli, unless it's Jeanne, his great-granddaughter, who ruthlessly presides over her oil and gas well into the twenty-first century. And, in a different way, Peter, Eli's son, as softhearted as his father was ruthless, makes his mark. He alone laments the massacre of the Garcias, but he's an indifferent rancher, and his love affair with the only surviving Garcia threatens to disembowel the McCullough empire. If you want to build a place like Texas, Meyer seems to say, only ruthlessness will suffice. In his many pages, Meyer takes time to be critical of Edna Ferber, but his tale is best compared to Giant. Lonesome Dove also come to mind, as well as the novels of Douglas C. Jones, Alan LeMay, and Benjamin Capps.--Mort, John Copyright 2010 Booklist