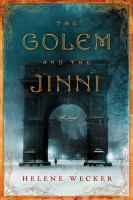 Library Journal
(c) Copyright Library Journals LLC, a wholly owned subsidiary of Media Source, Inc. No redistribution permitted.

In 1899 two very different creatures find themselves in New York City. Chava is a golem, a woman made of clay and brought to life by a Polish magician to be the perfect wife. Ahmed is a jinni, a being made of fire, who has been released from a flask he's been bound in for centuries. Forming an unexpected friendship, Chava and Ahmed must learn how to survive undetected while preparing to battle a dangerous adversary. First-time novelist Wecker introduces readers to an immigrant community of kindly rabbis, skillful tinsmiths, and possessed ice cream venders that serves as an excellent backdrop for the debates between Chava and Ahmed about the use of power and the meaning of freedom. VERDICT Full of quirky characters and philosophical and religious musings, this fascinating blend of historical fiction and Jewish and Arab folklore excels when it comes to its gorgeous descriptions and the intriguing flashbacks to the jinni's earlier life, but it lacks some relationship development to ground Chava and Ahmed's romance. Overall this original and fresh story will attract fans of historical fantasy or folktales. [See Prepub Alert, 11/19/12.]-Katie Lawrence, Chicago (c) Copyright 2013. Library Journals LLC, a wholly owned subsidiary of Media Source, Inc. No redistribution permitted.
---
Book list
From Booklist, Copyright © American Library Association. Used with permission.

First novelist Wecker has blended not only genres but also elements of Jewish and Arab folklore and mythology in this intriguing historical fantasy. What happens when a golem, a Polish woman made of clay, recently marooned in late-nineteenth-century New York, joins forces with jinni, a creature made of fire, accidently released by a Syrian tinsmith in lower Manhattan? The premise is so fresh that it is anyone's guess, and Wecker does not disappoint as she keeps the surprises coming in this unusual story of the intersection of two magical beings and their joint impact on their parochial immigrant communities. While stolid Chava and fiery Ahmed struggle to cope with their individual challenges and desires, they must together overcome philosophical, spiritual, and physical hurdles to ward off an insidious demonic threat. A mystical and highly original stroll through the sidewalks of New York.--Flanagan, Margaret Copyright 2010 Booklist
---
Publishers Weekly
(c) Copyright PWxyz, LLC. All rights reserved

Wecker's first novel is a magical tale of two mythical creatures-a golem from a Polish shtetl and a jinni from the Syrian Desert-struggling to fit in among New York's turn-of-the-19th-century immigrants. The golem is brought to America by poor furniture maker Otto Rotfeld, who had her built from clay to be his wife, but he dies en route. Elderly Rabbi Avram Meyer, recognizing the tall and hardworking young woman's supernatural character, gives her a name-Chava-and a job in a bakery, but ponders whether to destroy her or let her fulfill a destiny that legend dictates includes mayhem and destruction. Meanwhile, a tinsmith, Boutros Arbeely, releases the jinni from a thousand-year-old flask and names him Ahmad. Proud, handsome Ahmad proves a gifted metalworker, seduces a Fifth Avenue heiress, and pines for his long-lost glass palace before meeting Chava, his unlikely soul mate. Wecker deftly layers their story over those of the people they encounter, including a Jewish baker and his wife, a Maronite coffee shop owner and his wife, a doctor turned ice cream vendor, and an apostate social worker. The ending dips into melodrama, but the human touches more than compensate in Wecker's spellbinding blend of fantasy and historical fiction. Agent: Matt McGowan, Frances Goldin Literary Agency. (May) (c) Copyright PWxyz, LLC. All rights reserved.