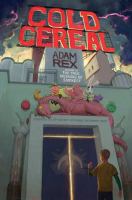 Publishers Weekly
(c) Copyright PWxyz, LLC. All rights reserved

Mythology and magic collide with breakfast cereal in this dry-humored adventure from Rex (Fat Vampire), first in a planned trilogy. When sixth-grader Scottish Play Doe-who understandably prefers to be called Scott-moves to the small town of Goodborough, N.J., a community dominated by the Goodco Cereal Company, he starts seeing imaginary creatures. One of them, a world-weary "clurichaun" (akin to a leprechaun) named Mick, claims sanctuary with him, explaining that he's trying to escape Goodco, which stole his magic. Teaming up with his new friends-superintelligent Emily and practical Erno-Scott investigates the mystery that is Goodco, soon learning the awful and bizarre truth behind the company's origins and success. With talking rabbit-men, Bigfoot, riddles, and clever riffs on cereal company advertising, it all makes for an intriguing if convoluted tale. Rex takes his magically delicious premise seriously, though, finding the thin line between absurdity and comedy, while giving this story more gravitas and depth than might be expected. The inherent oddities are further played up in Rex's frequent illustrations, not all seen by PW. Ages 8-12. Agent: Writers House. (Feb.) (c) Copyright PWxyz, LLC. All rights reserved.
---
School Library Journal
(c) Copyright 2010. Library Journals LLC, a wholly owned subsidiary of Media Source, Inc. No redistribution permitted.

Gr 4-8-When Scott sees a guy with a rabbit's head on the way to school, he figures it's just another one of the odd hallucinations he occasionally experiences. It turns out that it's the first of many bizarre events that include a snarky leprechaun, a Bigfoot butler, and a plot to take over the world with breakfast cereal, among other oddities. The story is filled with wildly imaginative elements and clever wisecracks, but the humor is couched within a rich, complex plot that's filled with engaging characters and concepts. The narrative shifts easily between the present-day perils of Scott and his companions and the hefty backstory about the cereal company and the world of magical Fay creatures. The full scope of the multilayered plot unfolds with small and large surprises, incorporating alternate worlds, time travel, and Arthurian legend, along with the cereal cartoons and other silliness. There's humor peppered throughout, even in the action scenes, as when the leprechaun gripes about the 20 quid that Kris Kringle owes him in the midst of a daring rescue. This first book in a trilogy ends with a satisfying triumph for Scott and friends, but plenty of dangers lie ahead if they hope to save both the Fay world and their own. Readers who enjoy fantasies that are equal parts hilarious and exciting will eagerly await the next two in the series.-Steven Engelfried, Wilsonville Public Library, OR (c) Copyright 2012. Library Journals LLC, a wholly owned subsidiary of Media Source, Inc. No redistribution permitted.
---
Book list
From Booklist, Copyright © American Library Association. Used with permission.

On his first day of school, Scott Doe accompanies his new sixth-grade class on a field trip to the Goodco Cereal Factory here, he encounters a leprechaun whom nobody else can see. Meanwhile, in a parallel story, twin orphans Erno and Emily Utz undertake their latest game, which is foisted upon them by their foster father, and which is supposed to test their intelligence. Eventually the stories converge, bringing together magical experiments, chase scenes, Merle Lynn and a colorful variety of fay, from a pink dragon to a Bigfoot nanny. The children unite and, with the help of friends fairy and real, attempt to thwart the cereal company's dastardly plans. Rex supports his centrifugal imagination with tight storytelling, effervescent characterization, and strong imagery and metaphor (plus black-and-white illustrations). The result is a story that's simultaneously dense and frothy, like chocolate perforated with bubbles. And while his imagined world is fully realized, he's careful not to explain too much, building a sense of mystery that will leave eager readers anxious for the sequel.--Barthelmess, Thom Copyright 2010 Booklist