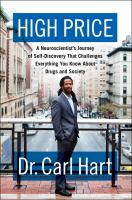 Library Journal
(c) Copyright Library Journals LLC, a wholly owned subsidiary of Media Source, Inc. No redistribution permitted.

[STARRED] Hart (neuropsychopharmacologist, Columbia Univ., research scientist, New York State Psychiatric Inst. Div. of Substance Abuse) presents a refreshing new analysis of drug use that reveals how common misconceptions about illegal drugs are far too often not based on empirical evidence. Hart blends his own story of experimentation with drugs as a teenager with his insights into the relationship between drugs and pleasure, factors that motivate the use of drugs, and the power of choice. He also reveals new ideas regarding the common association of racial characteristics with drug abuse, the impact of poverty on the use of drugs, and an important, new understanding of why current national drug abuse policies continue to fail. His relatively surprising research results reveal how incorrect common warnings are about how drug abuse can ruin a person¡s life. Drawing on his successful rise out of poverty and drug abuse in his dysfunctional family, Hart directed much of his research into how some drug users have managed to succeed in life, supporting his view that much of what is now being done in current drug education, treatment, and policy is inconsistent with scientific research results. VERDICT Hart manages to add to the voluminous drug abuse genre a radically new approach that is thought-provoking and that will certainly stimulate controversial opinions, especially among the drug abuse treatment profession. He succeeds in presenting a blend of personal memoir with a critical analysis of why drugs and drug users are often shunned, the role racial policies have played in this perception, and how these misperceptions have resulted in current drug fighting approaches that he views as counterproductive. Hart¡s experience adds credibility to this important work on substance abuse that is essential for all university libraries supporting treatment curriculum and treatment professionals.-Dale Farris, Groves, TX (c) Copyright 2013. Library Journals LLC, a wholly owned subsidiary of Media Source, Inc. No redistribution permitted.
---
Publishers Weekly
(c) Copyright PWxyz, LLC. All rights reserved

Combining memoir, popular science, and public policy, Hart's study lambasts current drug laws as draconian and repressive, arguing that they're based more on assumptions about race and class than on a real understanding of the physiological and societal effects of drugs. Growing up in a poor, predominantly African-American neighborhood in Miami in the 1970s and '80s, Hart, now a Columbia University neuroscientist, was rarely encouraged to excel academically, and he was too often witness to institutional racism and violence in his own community. Still, despite its deprivations, this background also gave Hart certain advantages later in life, such as a more empathetic relationship with the subjects of his studies on the effects of crack cocaine and other drugs and a more realistic view of what role such drugs actually play in society. Central to his work is the idea that addiction is actually a combination of physiological and social factors, and the use of drugs does not itself lead to violence and crime. Drug laws, he argues, place minorities into a "vicious cycle of incarceration and isolation," and the most rational policy choice would be decriminalization of all such substances. His is a provocative clarion call for students of sociology and policy-makers alike. Photos. Agent: Marc Gerald and Sasha Raskin, the Agency Group. (June) (c) Copyright PWxyz, LLC. All rights reserved.